There was a time when we used to look at the Sky and say how the weather is going to be like! At last, you could have got an idea from the current season. You know, it used not to rain during the summer season. Now, after the climate change, everything is a mess. It has become extremely tough to observe or predict the weather by yourself. And, that's why we'd need to depend upon scientific weather forecasts to plan your day ahead.
Suppose you have a busy day ahead with full of appointments and tasks; and you want to know whether it will rain. Thanks to some cool Weather Widgets, you can know all these right from your Android smartphone Home Screen. In case if you did not know, there are a bunch of cool weather widgets you can get for your Android device. Just keep one in your home screen and you can stay updated about the current or upcoming weather. For instance, by having a look at today's weather forecast, you can get an effective idea.
But, just as the case of any other categories, you need to choose the best weather widgets. In this article, we have compiled the best weather widgets you can get for your Android smartphone or tablet PC. Each widget has something unique to offer and it's your choice to pick one. Most of these are fully-fledged weather apps with extra widgets. After all, it's good to have a nice weather-information app, you know.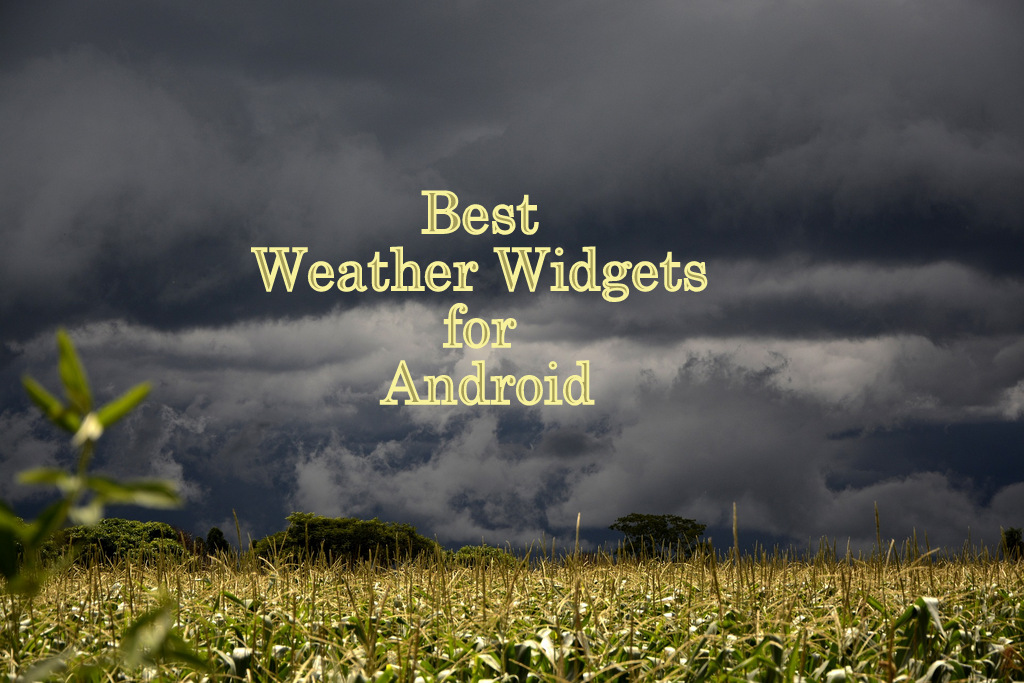 If you are looking for a clean, user-friendly Android weather widget, 1Weather is an excellent choice. Although the major purpose is as a widget, 1Weather comes as a fully-fledged Android app. Using this app, you can know the current weather, weekly forecast, hourly forecast etc. Apart from weather condition, 1Weather also shows you temperature graphs, maps, precipitation forecasts, weather layers, appearances etc.
Talking of widgets, there are 7 Customizable widgets included in the 1Weather package. From the basic icon-based widget to full-page widget, you have almost everything from it. Its best part is that you can customize every widget according to your taste. Last but not least, 1Weather is completely free to use. It's for simpleton people, we think.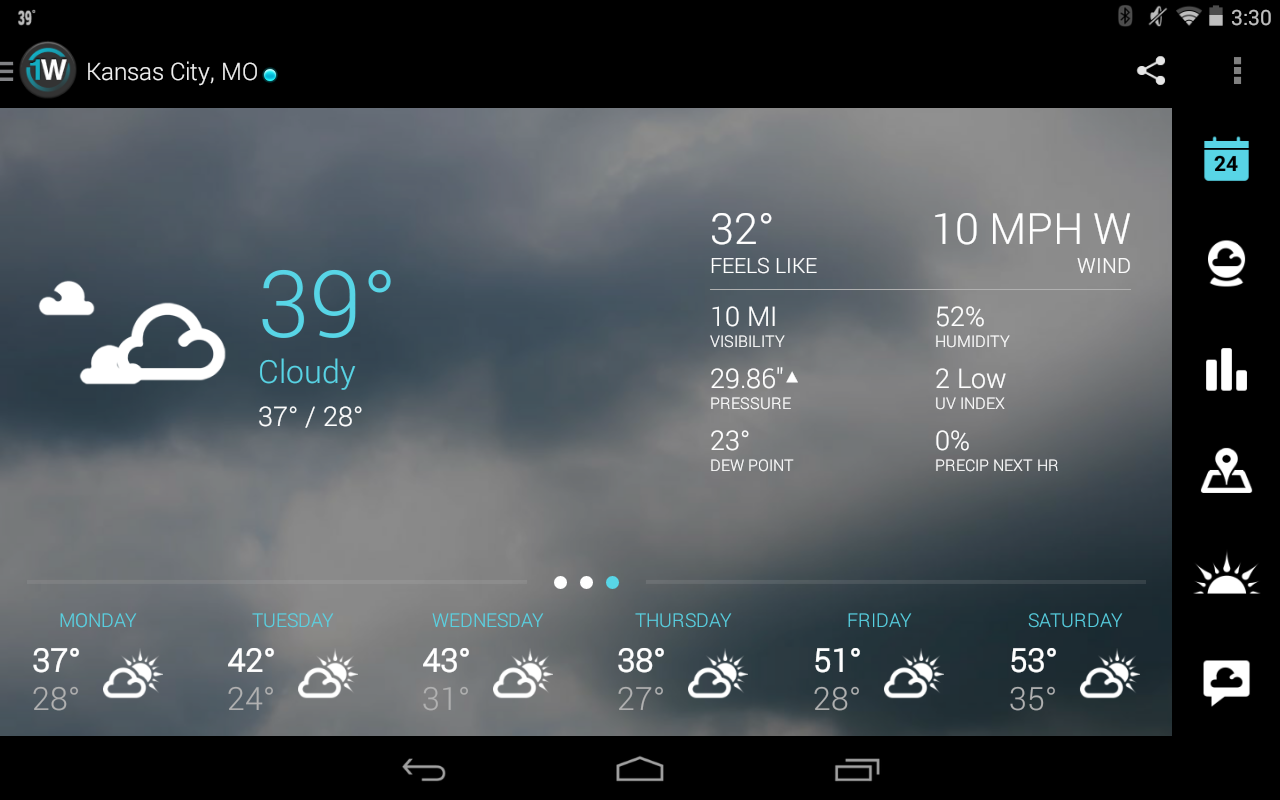 Do you prefer a minimalistic Weather App and Widget for your Android? Weather XL PRO, then, is an awesome choice at any case. It's a lightweight app that can work fine in almost all devices. It does not compromise accuracy but brings various kinds of forecasts into your Android home screens. It needs to be noted that Weather XL PRO arranges all the information in easily-read format. In addition, talking of the resources, it has a bunch to offer. Just as the app, Weather XL PRO widgets are also clean, without info-dump or something. In a single glance, you can know about the current weather conditions, forecasts and time. Another free Android widget, in case if you are wondering.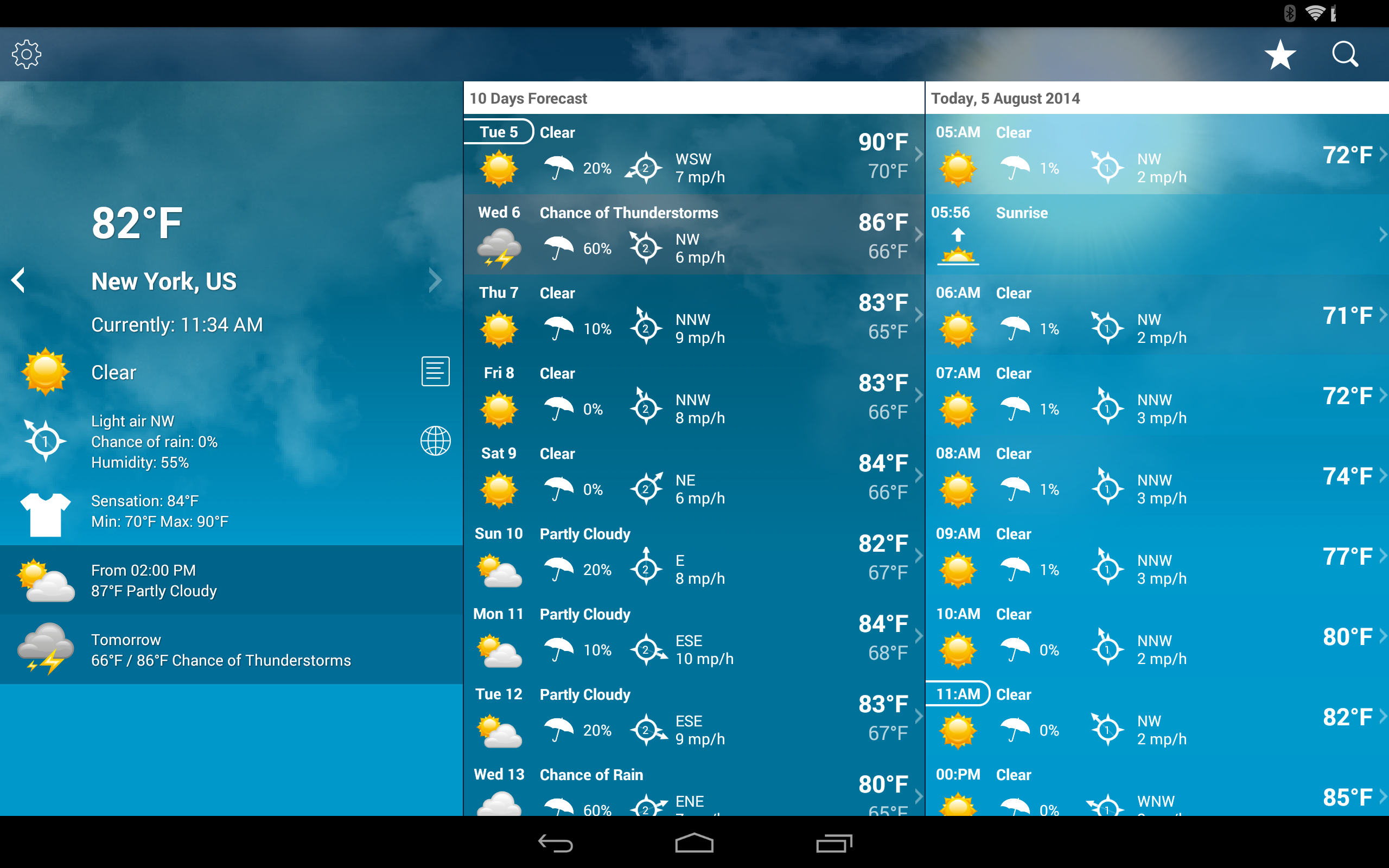 Weather is another fluid, simplified weather app you can count on for meaningful widgets. The widgets are easy to use as they give an overall idea about the current weather conditions. When compared to the other apps and their widgets, it is pretty easy to use Weather for Android. As you can see in the screenshot, the information is presented minimally, with a sign of current weather and the current temperature. In case if you did not know, Weather lets you add different widgets for different locations — like, one for New York and another one for Delhi, so that you can keep track of both in time of a swipe. Starting from Android v4.2, Weather's widgets are supported in Lock Screen as well. Once again, it's a free app that relies on minimalism.
Weather & Widgets, as the name says, is a collection of weather widgets and a fully-fledged weather forecast app. When compared to the other apps in list, this one is offering a better number of home screen widgets. All widgets are powered by cool animations and transitions. So, right from the home screen, you get a clear idea about the current weather. Talking of the widgets, they are simple, easy-to-use and impressive.
It syncs perfectly with your home screen design and the type of arrangement you are following. The Weather & Widgets app too has some cool features such as Geo-Positioning, the support for humidity, pressure, wind speed etc. In short, you can count on Weather & Widgets for cool widgets and a neat engine.
Do you want to put a cool, transparent weather + clock widget on your smartphone homescreen? Then, Transparent Clock & Weather is a widget collection you can try. You can choose your size, but Transparent Clock & Weather has a number of widgets to offer — such as 2×1, 4×1, 5×2 etc. Also, you have the option to resize these widgets completely so that you can fit the home screen. Also, as the name says, both the clock and weather information are transparent in design and it gives a good feel too.
Thanks to the multi-skin support offered, Transparent Clock & Weather can be suited with any kind of home screen arrangement. So, if you are concerned about the variety of weather widgets rather than accuracy, it does make sense to go with it.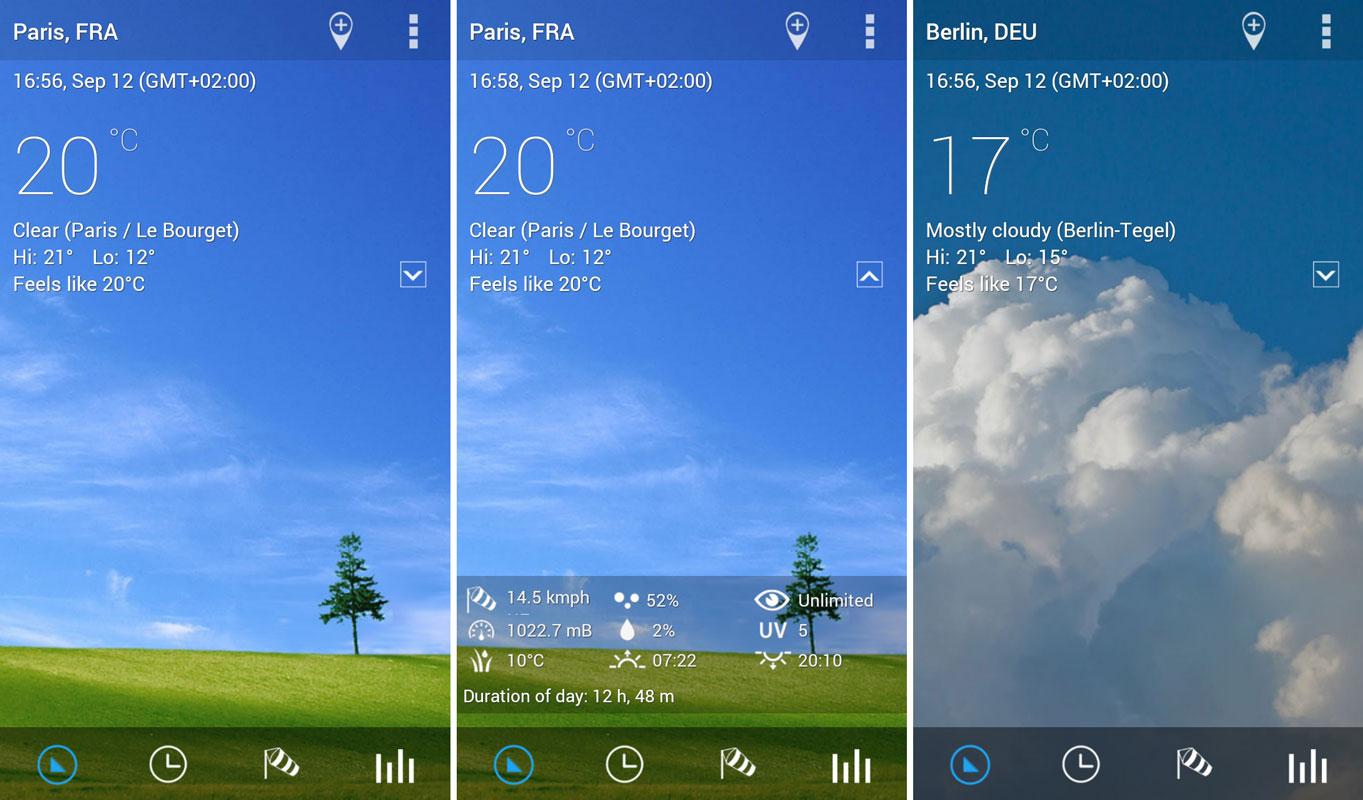 Once again, we have a fully-fledged weather app in the list. Amber Weather Clock Widget is a complete solution for your weather prediction needs, and you get a bunch of cool widgets alongside. If we talk about the app, there's a lot. It comes with detailed weather reports, hourly forecasts, graphical-overview of the statistics, climate overview etc. And, what's a lot more interesting is the fact that Amber Weather Clock Widget offers more than 90 Home Screen widgets. As you can guess, 90 is something of a huge number; it offers both paid and free widgets in the list. Thanks to the Material UI in use, you won't find it hard to place any of these widgets on your device home screen. Altogether, at least for the higher number of included widgets, you should consider Amber Weather.
Just as the first app in this list, Weather & Radar – Morecast App has a variety of features to offer. The app is dedicated to precise and on-time forecasts on weather, along with radar options. When compared to the others in list, Weather & Radar – Morecast App is offering some key features. There's an interactive radar options, street-level accurate forecasts on weather, side-by-side weather comparison between two places, support for live web cams etc. It means that you can trust the weather data you receive from this free application. The reason why we included this app in our list is the set of customizable weather widgets offered. You can customize each widget to suit your viewing convenience. After all, if we do consider all these, Weather & Radar – Morecast App makes enough sense.
Summing Up
So, these are the cool and best Weather Widgets for Android smartphone of yours. As you have seen, all the 7 widgets we have listed are free to use, though some offer in-app purchases.You can check more weather widgets here. For common users and weather-checking addicts, one of these widgets will be surely enough. At the least, you can get one that meets your requirements. If you need customizable widgets, you go for the last app in list, while Amber Weather presents you more than 90 widgets in whole. So, keep your weather data up-to-date and stay out of rain 😉
Also You Might Like to Read –