Would you like to go on a hiking tour to your favorite destination in the Swiss Alps without losing track of your health, map route and birthday reminders? GPS watches are a perfect fit for your desired sport activities requiring continuous monitoring of various parameters. They are comfortable, steadfast and make a striking fashion accessory. Be it cycling, running, cardio workouts or trekking in the mountains of Meghalaya for that matter, GPS watches present in the current market make a versatile companion in your adventure addictions.
GPS watches come in handy for those travelers who don't have a fixed itinerary and wish to explore new places whilst being safe and not getting lost! If you would like to pitch your tent in a far away forest landscapes or go kayaking in the backwaters of the Ganges, GPS watches seem to be extremely useful. The Garmin Fenix 3 falls in the premium segment of GPS watches.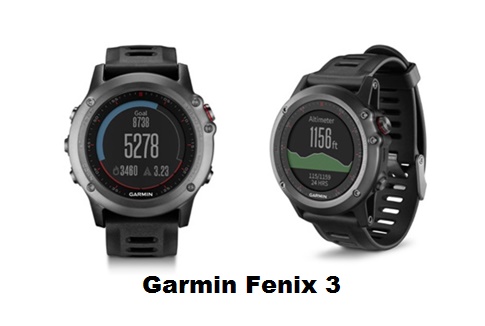 Navigation
Many GPS watches have exclusive tracking, multi-sport functions, emergency track among other striking features. The Garmin Fenix 3 has a unique TracBack function which allows its users to select checkpoints in case you get lost during your hiking trail. GPS data gets recorded in sort of a 'bread crumb trail' as you travel from one spot to another. You can mark camping sites, water sources, danger spots and checkpoints. This watch allows you mark up to 1000 locations for future reference. The Garmin Fenix 3 also has a LiveTrack facility which lets your family and selected contacts know of your existing location providing you with increased safety. This allows you go to that isolated yet peaceful beach you have been always wanting to visit. This doesn't stop here.
Also Read – Best Fitness Tracker Wristbands to Buy in India
You could always navigate back home from your office with this watch. The Garmin Fenix 3 also features accurate tools like ABC (Altimeter, Barometer & Compass). The pressure sensor measures current readings and compares it with the atmospheric pressure at the mean sea level.  Pressure drops with increased altitude and accurate elevation levels are judged by the watch. In addition to this, it also calibrates its sensors using GPS location. It can also predict if you would be greeted with rains in the future.  These prove to be noteworthy additions in making your journey a more comfortable one where you can concentrate on the finer aspects of travel.
Battery Life
You have to face it. Garmin Fenix 3 can squeeze up to a battery life of 50 hours in the UltraTracTM battery saver mode. A huge plus for the Garmin Fenix 3 would be that it gives up to 3 weeks of battery on the simple smart watch mode. This makes it particularly helpful to the hardcore trekker on long trails. Garmin Fenix 3 stands tall among battery life with enough juice for your adrenaline expeditions and the serious athlete in you.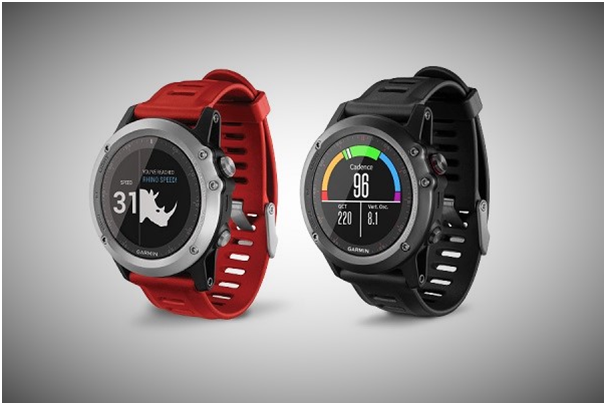 Multi-Sport Functions
The supremely adaptable Garmin Fenix 3 has a plethora of options of sport to choose from. Be it swimming, golf, skiing, cycling or paddle sports it gives you tremendous data to track your progress. It has a VO2 Max number calculator which gives your VO2 Max number at the end of every workout. VO2 Max is measured in milliliters of oxygen per kilogram of body weight per minute.
Also Read – Top 10 Smartwatches to Buy in India
Apart from this it also gives you cadence, vertical oscillation and stride length. If the length of the pool is entered in the watch, it lets you calculate swim distance, stroke distance and stroke rate. This principle goes with paddle sports and golf too. The proficient and accurate heart rate monitor keeps track of your heartbeats effectively.
Staying Connected
The resourcefulness of a watch is incomplete if fails to connect you to the digital world. Many GPS watches these days have smart phone compatibility through Bluetooth sending you instant emails, texts, reminders and other alerts. Garmin has its own ConnectIQ app store which lets you freely download apps attuned to your choice of sport or workouts. The Garmin Connect also lets you share your activities, track your goals and also post your trek route online. GPS watches are a step forward towards sport revolution.
For a serious athlete or a hardcore backpacker who needs a continuous monitor of activities, the Garmin Fenix 3 is spectacular as this GPS watch has  100% water proofing with rating up to 10 atm. The foremost work on your part would be to prioritize your requirements and then zero in on a watch that best suits you.
Thanks for reading us. Do share your views for this amazing GPS watch. We will be happy to hear you.
Save