Tablets have become quite popular in the modern day and…that's not surprising if you really think about it. Who doesn't want some nifty entertainment on the go or be able to complete tasks wherever and whenever? Honestly, with the features and power packed inside a tablet that could fit in a hand bag, it is one deal that you simply cannot pass. So, a lot of big companies (and a lot more new ones) have entered the tablet competition in the recent years and we are bombarded with practically thousands of choices! If you are one of those people out there finding it impossible to make a choice then this article is for you! Here we will list what we think are the 10 best tablets in 2015. So, read on! Make your choice!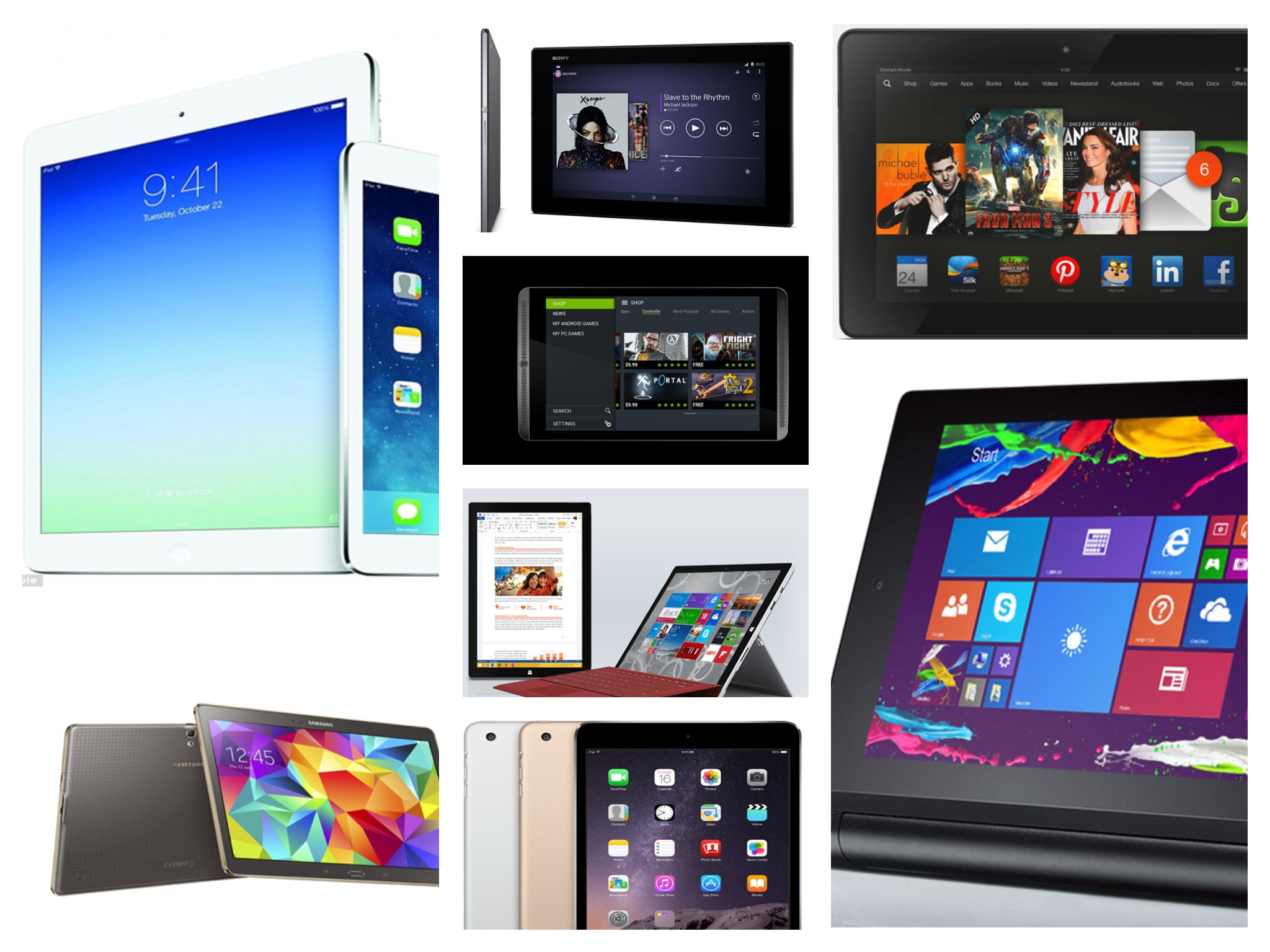 1.    Apple iPad  Air 2
Don't let the specs fool you. Despite looking a little shabby in comparison to its competitors with a triple core A8x processor clocked at 1.5 GHz and 2 GB of ram, the IPad air 2 is in fact the most powerful generic tablet there is. It was  able to outperform the competition and stand on the top when it comes to processing power and its gaming performance even in the most graphic intensive games is simply phenomenal! Apple's signature retina display is just as good as ever and provides excellent anti-glare visuals even outdoors.  Camera has always been top class in any apple product and this is no exception. Sporting an 8 MP iSight camera (including slow motion video capture -120fps at 720p), it is on par, if not better than the rest of the top tablets. It also has apple's signature finger print scanner which we have been seeing on the iPhone for a while now and it works pretty well not to mention it's extremely convenient (& cool). The only downsides are lack of customizability and the hefty price. But, if you are someone who likes apple's products and don't mind spending some extra bucks, this is just the thing for you!
2.    Samsung Galaxy Tab S
For some reason Samsung just loves to squeeze in as much raw power as possible into all of its products with its latest tablet, the galaxy tab s, being the prime example. It comes out with 2 quad core processors clocked at 1.9Ghz and 1.3Ghz making it, in essence, an octa core beast! It also has 3GB of ram which is more than likely to handle any multi-tasking challenges you might throw at it. Sporting an 8MP rear camera and 2.1MP front facing camera, it should do just fine for regular photography needs. Samsung's new 10 inch super AMOLED display kind of lives up to the tag 'super' providing us with crystal clear display and pretty impressive viewing angles. Finally with everything you also get samsungs cool features like IR blaster, fingerprint scanner, touchwiz and the list just goes on. So coming at around Rs.45000 this doesn't look like a bad deal at all.
3.    Sony Xperia Z2
Sporting a snapdragon 801 processor clocked at 2.3 GHz and 3GB of ram the xperia z2 offers no less power than the galaxy tab s. With a 10 inch IPS LCD display, it presents a very crisp display with great viewing angles. It has an 8.1MP rear camera and 2.2MP front camera which once again are quite impressive and would serve the everyday needs no problem. Coming in at around Rs.49000 , the Z2 tablet is a solid deal.
4.    Nexus 9
Google's and HTC's latest tablet nexus 9 made itself known to the market a while ago and while it's not as popular as some of the big fish like Samsung or apple, it is quite a catch. It has an excellent build quality and a premium feel, not very surprising considering it was made by HTC. Now it's not just the outside that is impressive. It packs a dual core nvidia tegra k1 clocked at 2.3 GHz, which may not look that impressive on paper but contains all the power you need. It also has a 2GB ram so multitasking won't be an issue. It starts at around Rs.44,000.
5.Apple ipad mini 3
The mini 3 doesn't offer a lot of new features compared to the mini 2 with the finger print scanner and gold edition being the only new improvements. However it does contain everything that the mini 2 had and that's what matters here. It comes with a dual core A7 chip clocked at 1.3GHz which again is not that impressive to look at but packs some serious power inside. It has only 1 GB of DDR3 ram but the ios and the apps are so well optimized that you would actually find that it out performs a lot of devices having a lot more ram. If you are not a big fan of the finger print scanner, then you could always get a mini 2 for a lower cost while missing absolutely nothing.
6. Microsoft Surface Pro 3
If you are someone who is very serious about working on the go and need as much power and flexibility without giving up on mobility, then surface pro might just be the thing to look for. The latest edition of surface pro series from Microsoft packs a dual core Intel i53317u clocked at 1.7GHz also containing the Intel HD 4000 onboard graphics. It has 4GB of ram and 64GB internal storage while also supporting external micro SD cards. This could easily be called a scaled down version of a laptop, with all the power intact. It also has a 10.6 inches full HD ips lcd screen. The only downside here is the 1 MP camera which..well doesn't do much except being there. So, if it's just the work efficiency you need this is without doubt the best option you have. It costs around Rs.64,000 so you might have to spend more than a regular tablet.
7. Nvidia Shield
This is a gaming tablet from nvidia packing quite a punch with the quad core tegra k1 clocked at 2.2GHz and 2GB of ram. Now while this is intended primarily for gaming with Nvidia putting in a bunch of cool features aimed at that, it could ,with all those taken away still be considered a decent general purpose tablet. It has an 8 inch 1080p display, 5MP cameras on both front and back and most importantly it has the front facing speakers which offer a great movie or gaming experience. This is a very good choice if you need to work on the go and/or a gamer. It is also not very costly coming in for about Rs.25000 for the 16GB version.
8.Amazon kindle fire HDX 8.9
The amazon kindle fire tablets are well known for the value they offer to the paid money. They cover almost every budget making a feasible option at any price point. For this list we look at their top teir- the kindle fire HDX 8.9 . For the specs, it contains a quad core snapdragon 800 processor clocked at 2.2GHz , 2GB of ram and an 8MP camera. This puts it on par with the biggest contenders but what makes it really worthy is that it is a lot cheaper comparatively. It starts at just about Rs.33,000 for the 16GB version.
9. Nexus 10
While this is quite old and it's successor nexus 9 is already on the market, the nexus 10 is still a very solid option. It has a 10 inch screen with a resolution of 2500*1600 , giving it a pixel density of nearly 300ppi which is even greater than the nexus 9! Another awesome feature is its front facing speakers which would just blow away any competition having side speakers. It has a dual core cortex-A15 processor clocked at  1.7GHz and 2GB of ram. The internals may not be the latest and most powerful but this device runs pure android so it comes free of any bloat ware and you could go about with your daily tasks no problem. It starts at around Rs.32000 for the 32GB version.
10. Lenovo yoga tablet 2
This is a very good option for anyone looking to stay on budget and still get the most for your money. It has an 8 inch full HD screen , 8MP camera, a quad core Intel atom z3745 processor clocked at 1.86Ghz and 2GB of ram. The camera isn't top of the class nor is the processor but it gets the job done pretty well and coming in at around Rs.25,000 , this is something you definitely want to look at.
So, there you have it people, 10 of the best tablets in 2014. Now before you go to pick up any of those or any tablet at all, first decide what you will be using it for, then the maximum budget and your selection will be a lot easier. Thank you for reading and if you have any further questions and/or suggestions write them down in the comments section and we will get back to you as soon as we can.