FotoJet is a free online collage maker and graphic designer that helps you turn your photos into amazing collages, photo cards, social media graphics, posters and then quickly share with family and friends via Facebook, Twitter, Pinterest or Tumblr, providing 600+ creative collage templates, 80+ classic collage layouts and 300+ professional designs.
It works perfectly in any browser without the hassles of downloading and installing. Just open https://www.fotojet.com/ to get your designs started!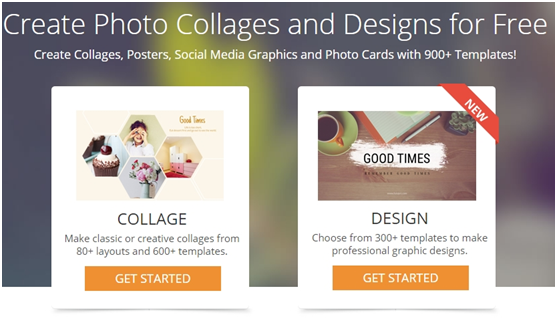 There are two modes for making collages that are COLLAGE mode and DESIGNmode.In COLLAGE mode, you can make classic collage and creative collage.You are provided with 80+ fully adjustable classic layouts and there are 600+ creative collage templates offered such as Modern Collage, 3D Collage, Photo Card, Magazine and so on. To create a collage, you just need to choose a template/layout, easily add favourite photos, apply other elements like texts, clipart images,shapes and background resources.
Also Read – Instagram Tips and Tricks – Editing & Sharing
At last, save, share or print your collage quickly. Even a computer novice can use FotoJet to make beautiful collages effortlessly.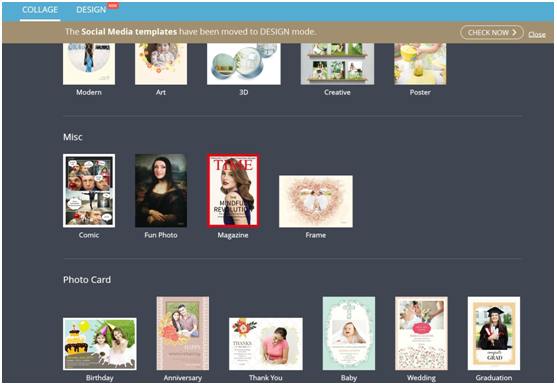 In DESIGN mode, you will find 300+ professional designs, including Facebook Cover, Facebook Post, Instagram Post, Twitter Header, YouTube Channel Art, and Poster, etc. It's flexible to customize your creations with photos, texts, online clipart images, lines, shapes and other elements.
Under DESIGN mode, you can unleash your creativity freely to make gorgeous photo designs and then save, print or share to social platforms!.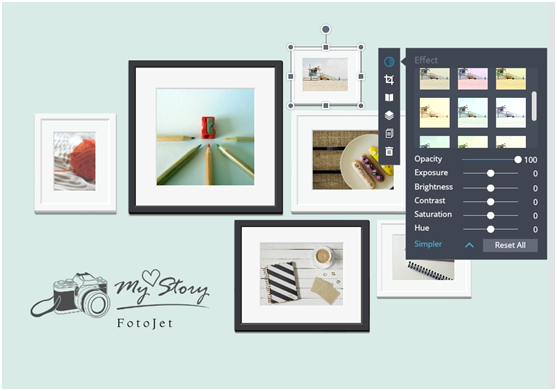 Make some adjustments can show your creations in a unique style. These are what you can do with FotoJet:
Freely crop photo and move it to show the exact part you want.
Apply popular effects to beautify photos and adjust the Exposure, Brightness, Contrast, Saturation and Hue at will.
Add clipart images and text to collage.
Edit text and adjust the font, color, size, and alignment at will.
Apply Outline and Glow effects to text.
Set collage background with solid color fill, 20+ preset patterns or with your own image.
Freely move, resize, rotate, and duplicate any object.
Select multiple objects for batch processing.
Manage layers of different objects.
* Save or share your collage
Save your collage as a JPG or PNG image as needed.
Share collage to Facebook, Twitter, Pinterest, or Tumblr.
Directly print your collage out.
Visit Fotojet.com and create wonderful memorable photo collages.