Fujifilm India introduced on the 23rd of May in India, their newest offering and Flagship model for commercial photography – The much long awaited Medium format Mirrorless camera – The GFX 50s.
The GFX 50s though equipped with a Medium format sensor is much light weight and compact in size, similar to that of a Fullframe D-SLR body.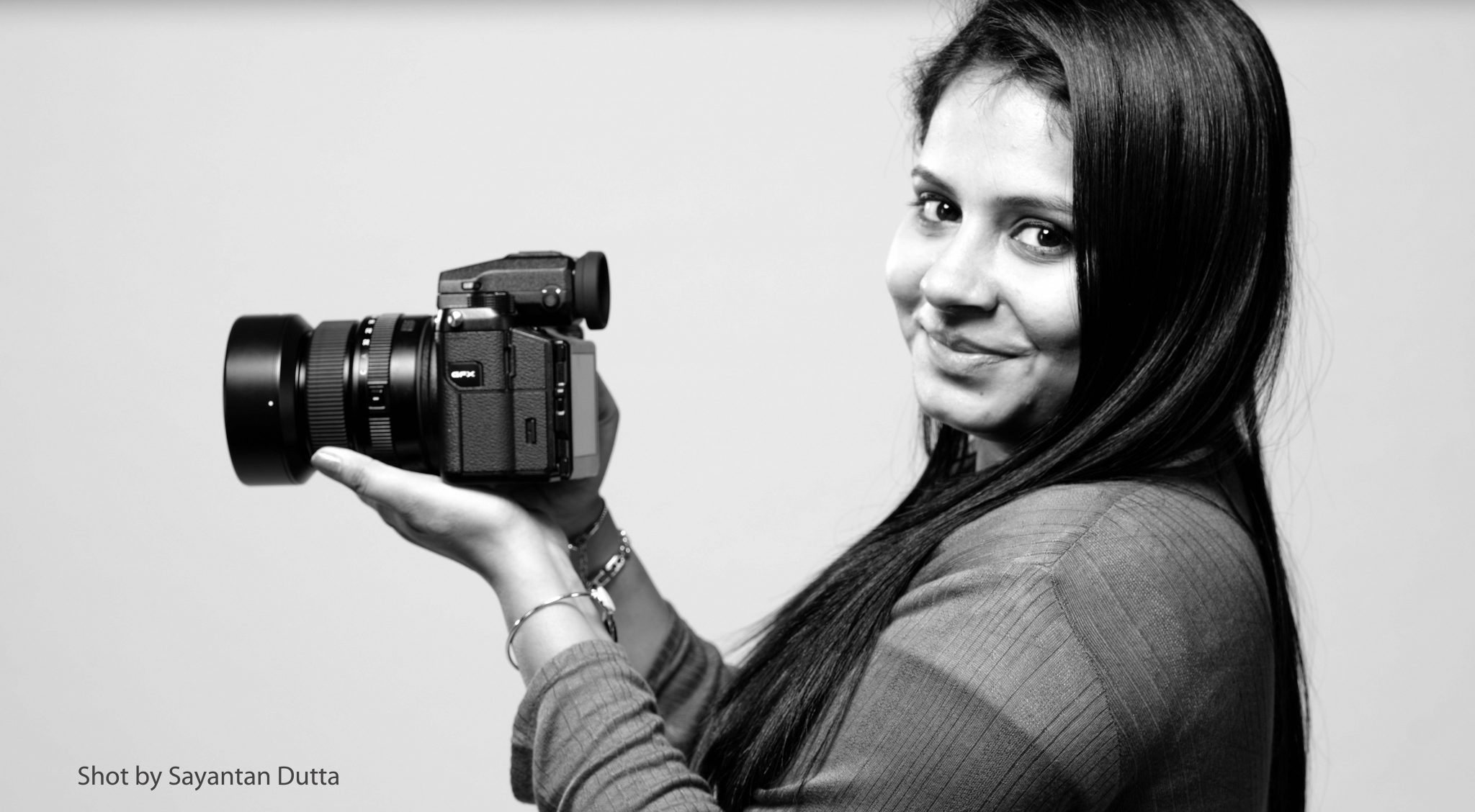 Fujifilm boasts over it rightly that this camera is a game changer in the realm of Commercial, Fashion and Landscape photography.
Alongside the GFX 50s, Fujifilm also introduced 7 new lenses of the GF Series and several of its accessories.
The main features of the GFX 50s:
The GFX 50s is equipped with a 51.4 MP, Medium format Sensor (43.8 X 32.9mm) which is 1.7X larger than a Full frame sensor (36 X 24mm) ensuring super high quality images with much higher resolution.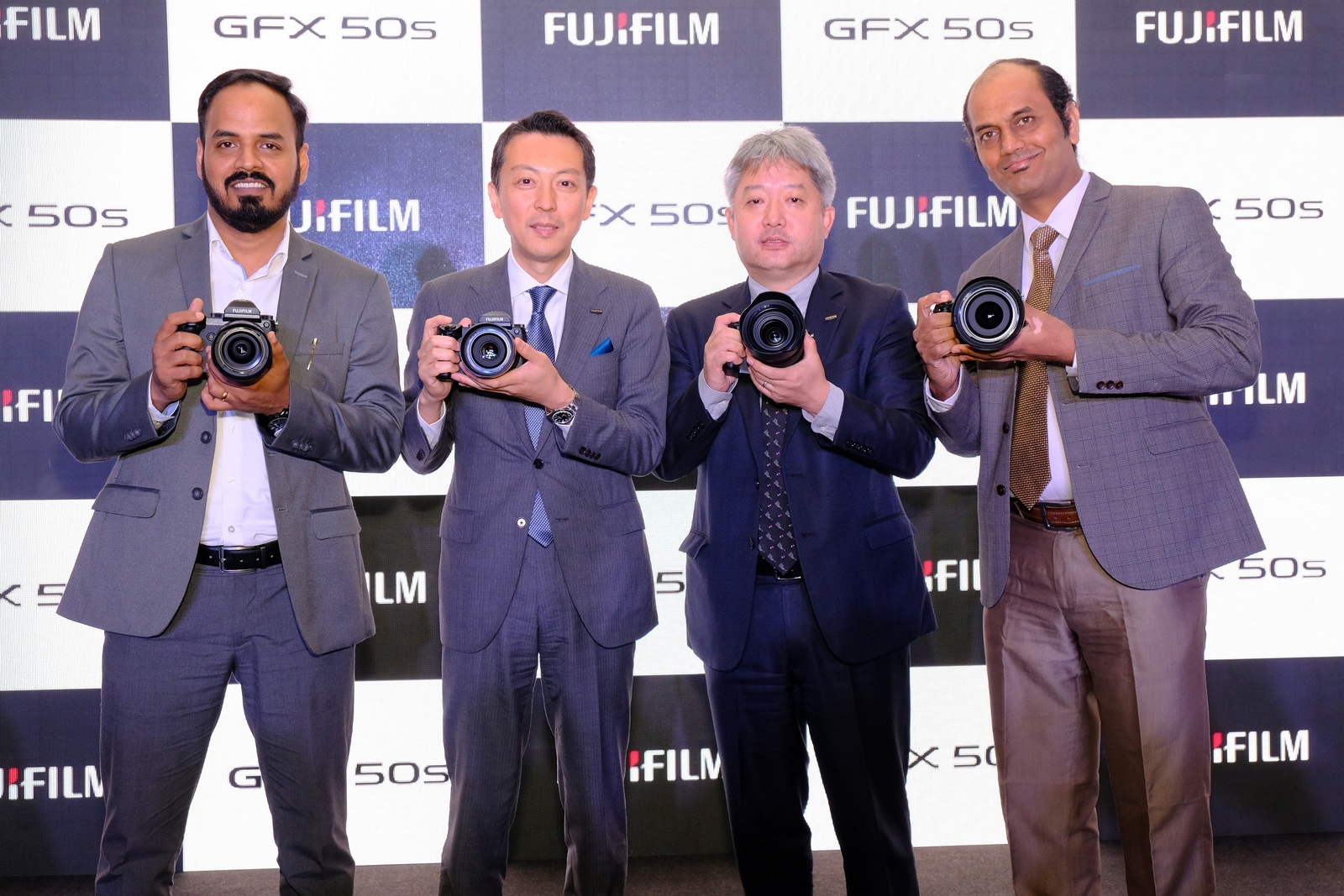 The Sensor employed, has been further optimized by enhanced designing the light gathering Micro-lenses over it and the processing from the photodiodes to achieve higher level of sharpness and broad dynamic range.
As a result, the subdued details in the lowlight areas and brighter areas are achieved and there is very smooth gradation between the highlights and low-lights. An overall 14 stops of dynamic range is achieved with the 14 bit RAW data of this G-Format CMOS sensor.
Further due to the Mirrorless architecture of this camera body the Flange back distance is of 26.7mm and the minimum back-focus distance is of only 16.7mm. The short back-focus distance made designing of high-performance, faster yet compact lenses possible- which while preventing Vignetting can provide edge to edge sharp image onto the GFX 50s sensor.
The Fujifilm Mirrorless cameras has a special feature of adding realtime flavor of Film by its film simulation mode. To name a few- the film effects of Provia, Velvia, Astia, Classic Chrome, Acros (Y/R/G) are also available in the 50s.
Additionally a new film simulation mode has been added- known as – Color Chrome: which adds more boost to the saturated colors for a more punchy result so as to give a life like effect.
This effect can be added as – Weak / Strong.
With the GFX 50s- Fujifilm has also introduced newer variety of frame Aspect ratio which can be changed in-camera.
Aspect ratio supported: 4:3; 1:1; 16:9; 5:4 (New); 7:6 (New); 3:2 (New); 65:24 (new) 
The 50s has total of (17X25) 425 Single Focus points at six different Focus area sizes. AF Mode supported is Single focus, Zone and Wide/Tracking Modes- with total of 6 Auto focus modes:  
AF S + Single Point: For capturing subjects using a specific AF point
AF S + Zone: For capturing subjects across a large AF area (3×3, 5×5, 7×7)
AF S + Wide: For automatically capturing a subject across the frame
AF C + Single Point: For continuous spot focusing
AF C + Zone: For tracking a subject within a selected area
AF C + Tracking: For continuously tracking a subject across the frame
Auto focus can be also done through Face detect AF or Eye detect AF- (Both eyes / Only Right / Only Left)
Manual focus Assistance: During Manual focus- Manual focus assistance is available – which highlights the In-Focus area. Also Live view on screen can be enlarged for more accurate manual focusing.
Not only in the Image quality and performance, GFX 50s scores higher when it comes to its make and the Body features.
The GFX 50s Body is dust resistant; weather sealed and freeze proof which is made of robust Magnesium-alloy ensuring good weather sealing and durability.
The body is weather sealed in 58 points to achieve high level of resistance to dust and moisture, and can endure easily harsh weather conditions.
For ease in various kind of work- ranging from Fashion shoot to Table top, the design of 50s has been taken care of. The View-finder of the GFX 50s comes detachable and position of the VF can be changed according to the requirement of shoot-
Attachment 1: 3.69M Dot EVF with 100% coverage with Magnification of 0.85X (Supplied)
Attachment 2: EVF-TL1- EVF Tilting adaptor- to enable vertical tilt (0°-90° / 5 steps) and horizontal rotation (±45°) is available. This equipment allows shooting from waist level or aids shooting in portrait orientation (Available separately). 
The 50s is equipped with a large rare 3.2" 2.36M-Dot touch-screen LCD which tilts in 3 directions (90° up, 45° down and 60° to the right) for easy framing and shooting from high or low angles.
This monitor can display 3D electronic level of the Camera and this feature is highly effective for architecture or landscape photography where proper leveling is crucial. 
Apart from this the 50S has a very useful 1.28" Sub-Monitor – which is Monochromatic and can be viewed from all directions and is readable even in bright Sunlight. This sub-monitor also features a back-light for easy viewing in low-light conditions. Information as Battery level, Shot remaining etc are visible even in Camera off Mode. And additionally displays – Shutter Speed/ Aperture/ ISO, Exposure compensation etc when camera is switched on.
Physical features:
The Camera is equipped with Dual Memory SD Card slots both of which supports – UHS II cards and a max capacity of 256GB. You can record images in each mounted card individually, or select to have a backup in the second card. You can also opt to record the jpegs in Slot-one while the Raw files separately in Slot-2, or Stills in Slot-1 and Video in Slot-2.
There is also a useful Drive button which helps to switch easily between different shooting Modes- as Still- Single/ Still- Burst, Bracketing and Video.
One of most interesting features of this camera is that the World's first focal plane Shutter, which is specifically designed for Mirrorless Medium format cameras – is released with the GFX 50s. This special mechanical shutter can withstand around 150000 actuations and generates extreme low-noise while shooting. The shutter offers shutter speed upto 1/4000, and Flash sync speed with this shutter is upto 1/125.
But interestingly when using the optional Fujifilm Flash EF-500 in FP Mode, flash sync can be increased till 1/4000 (to its maximum limit). 
The Vertical Power grip for the GFX 50s– VG-GFX1 provides a strong grip of the camera and features – Shutter release button, Front and rare command dials, focusing joystick and 6 Function buttons. It has a slot for 1 additional Battery and can also charge the battery using supplied AC-Adaptor (AC-15V) fully in approx. 2 hrs only.
The GFX 50s also supports recording of HD and FHD Videos at variable frame rates using the different film simulation modes. This can help record documentary footage if required without carrying dedicated video camera at any project.
Additionally there is probation of recording own voice upto 30 seconds as notes on the Images being shot. This makes it easier to keep track of the shooting situations or for preserving specific date.
Connectivity:
The GFX 50s offers various interfaces for connectivity.
It has USB 3.0 port for Tethering connectivity and transfer of files. Through tethering connectivity the 50s can be controlled with the System attached.
HDMI Micro (D-type) connector can be used to output images to external monitor.
Additionally Smart-phone / Tab can be connected as remote control of the camera as well for transferring the images shot. The app to enable this connectivity feature can be downloaded from: http://app.fujifilm-dsc.com/
In India Fujifilm is offering complementary Hardcase and 64GB 300mbps UHS II memory card with the GFX 50s.
Overall considering the useful features the Image quality and the compactness being a Medium format camera, The GFX 50s seems to be truly a game changer and a boon for the commercial and Landscape photographers.
GFX Series Prices in India
| | | |
| --- | --- | --- |
| Category | Material | MRP |
| Camera | FUJIFILM GFX 50s (Body only) | INR 511,999/- |
| Lens | FUJINON GF63mm F2.8 R WR | INR 119,999/- |
| Lens | FUJINON GF32-64mm F4 LM WR | INR 179,999/- |
| Lens | FUJINON GF120mm F4 R LM OIS WR Macro | INR 209,999/- |
| Lens | FUJINON GF23mm F4 R LM WR | INR 204,999/- |
| Lens | FUJINON GF45mm F2.8 R WR | INR 133,999/- |
| Lens | FUJINON GF110mm F2 R LM WR | INR 219,999/- |
| Lens | FUJINON GF250mm F2 R LM OIS WR | INR 353,999/- |
| Accessory | H-Mount Adaptor | INR 43,999/- |
| Accessory | 1.4X Tele-convertor | INR 66,599/- |
| Accessory | MCEX 18 (Micro Extension Tube) | INR 31,599/- |
| Accessory | MCEX 45 (Micro Extension Tube) | INR 31,599/- |
| Accessory | VG GFX1 (Vertical Grip) | INR 39,999/- |
| Accessory | EVF Tilt adaptor | INR 37,999/- |
| Battery | NPT125 (Battery) | INR 7,959/- |
This blog is contributed by Sayantan Dutta. He is a photographer as well as the Product Specialist. You can visit Sayantan's Instagram page to check more pictures clicked from Fujifilm GFX 50s.