On 5th of Jan'2016, Letv – a leading Internet Multinational and Technology Company from China launched its innovative Le 3D Helmet, LeMe Bluetooth Headphones and Super Cycle. The devices were launched by Mr. Dickson Lee, GM, APAC Smart Device of Letv at an event in New Delhi.
The Le 3D Helmet is designed to enhance users' entertainment experience. The Le 3D Helmet and the LeMe Bluetooth Headphones together will offer a unique video and audio experience to users.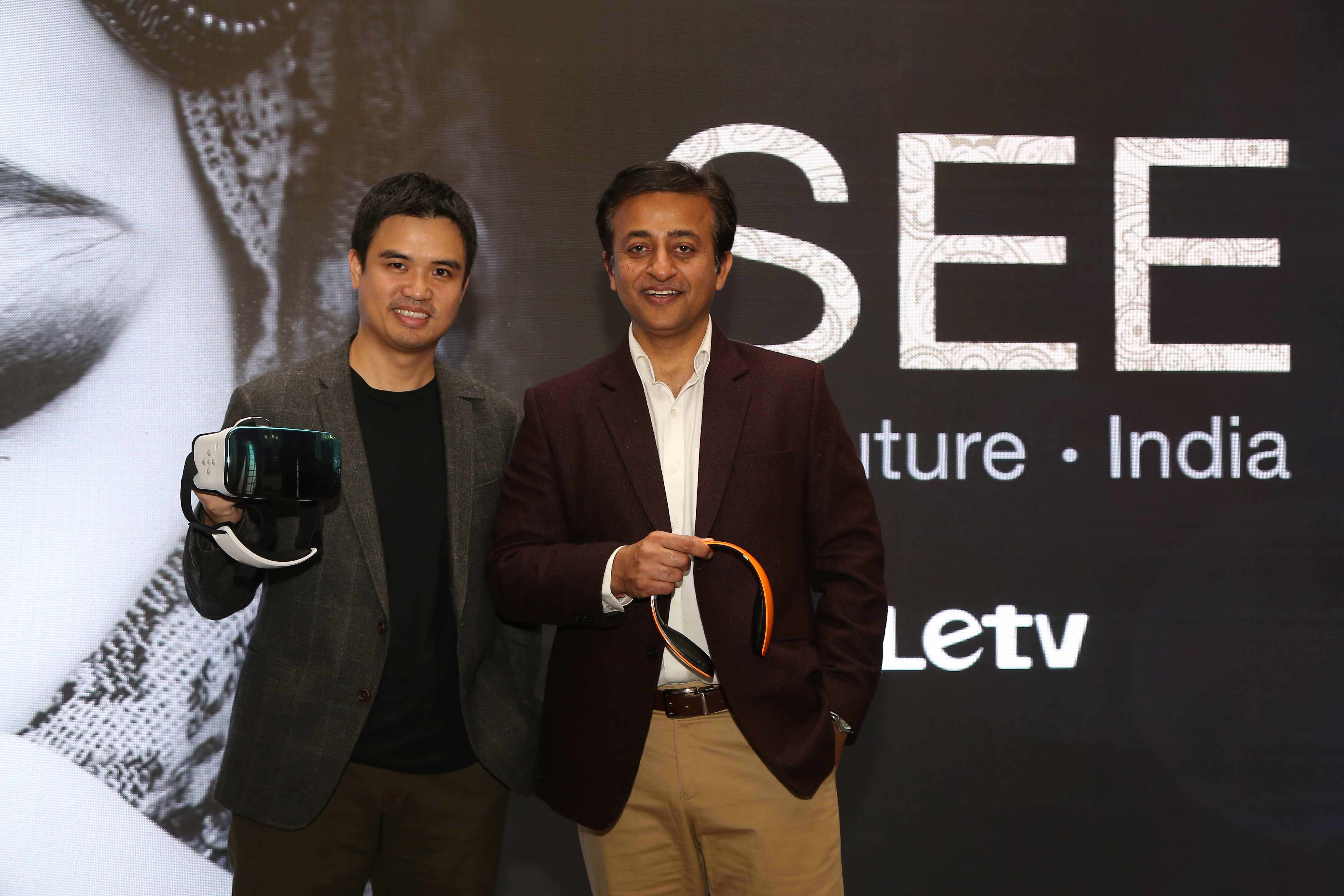 The Super Cycle showed during the event is not just a cycle; it's an Internet-enabled self-powered transport system, which will take fitness to newer heights. Re-defining the cycling experience and creating dynamic visual effect, the Super Cycle will be a game changer, making life easier and more fun. With a content-based ecosystem integrated across devices, Letv is dedicated to providing end-users with devices which have superior performance at disruptive pricing.
Mr. Dickson Lee, General Manager, APAC Smart Device of Letv said "At Letv, it is our constant endeavor to provide our consumers with the most innovative products and best in class experiences. With the new devices, we aim to offer a unique combination of amazing features, and top performance supported with good battery life packed in a sleek design. We are confident that our consumers will love the experience on our devices."
"Empowered by the strong ecosystem, we are dedicated to offering Indian consumers lifestyle enabling products," he added.
When it comes to the mobile accessories, consumers today need a smooth user experience coupled with good battery life, visuals and graphics without compromising on performance. Letv designs and manufactures very innovative products to help consumers choose the best devices for their needs. Letv is soon going to bring their successful flagship Superphones in India.
Le 3D Helmet –
The Le 3D Helmet brings the sharp and customized user experience. The device is equipped with a 5.5″ SHARP 2K LCD screen and a resolution of 2560*1440 with 70° field of view. With slick dimensions, the device is easy to hold and portable, it weights <450g (excluding headband). Enabling a powerful and rich multi-media experience, the helmet comes with a USB Type C port to connect with your phone for MHL signal input. The 3D Helmet is the optimal device for viewing videos and playing enhanced games, anytime, anywhere.
Check full specifications of Le 3D Helmet
LeMe Bluetooth Headphones –
The LeMe range Bluetooth Headphones from Letv, feature a dimension of 180*176.8*62.8MM, and a speaker frequency response of 20Hz– 20,000Hz, for the ultimate wireless audio experience. The device also sports a commanding 195 mAH Li-ion polymer battery for on the go usage enabling music playback time and talking time of 10 hours and standby time of 26.5 days with charging time of 2 hours. The headphones are very stylish in look and offer users a chance to express their personality with colors. The LeMe headphones are available in colors red, pink, blue, orange and white. Check review of Avantree Audition Bluetooth 4.0 NFC Headphones.
It is the perfect 'on-the-go' gadget and comes with a charging port of Micro USB Type B with a wireless range of 10m and weight about 240g.
Below we have detailed specs of LeMe Bluetooth Headphone.
Super Cycle –
Super Cycle, the main attraction of event is an urban Cycle which is an Internet-enabled self-powered transport system. The Super Cycle is integrated with numerous sensors, and cloud storage technology which permits access to GPS, Speedometer, Light intensity, Heart rate, weather, etc. The smart cycling system monitors the ride and delivers real-time statistical data as per customization.
Letv's Super Cycles are available in four models namely, Aluminum editionSilver, Aluminum edition-Gold, Carbon fiber editionSilver and Carbon edition- Gold. A keyless and chainless anti-theft technology and fingerprint identification technology makes the Super Cycle smart and even cooler. The GPRS configured cycle, facilitates connectivity across other smart devices enabling connectivity across platforms. Topping it all, the Super Cycle is equipped with an 8400mAh battery, hub dynamo and voltage stabilizer helping automatic power generation.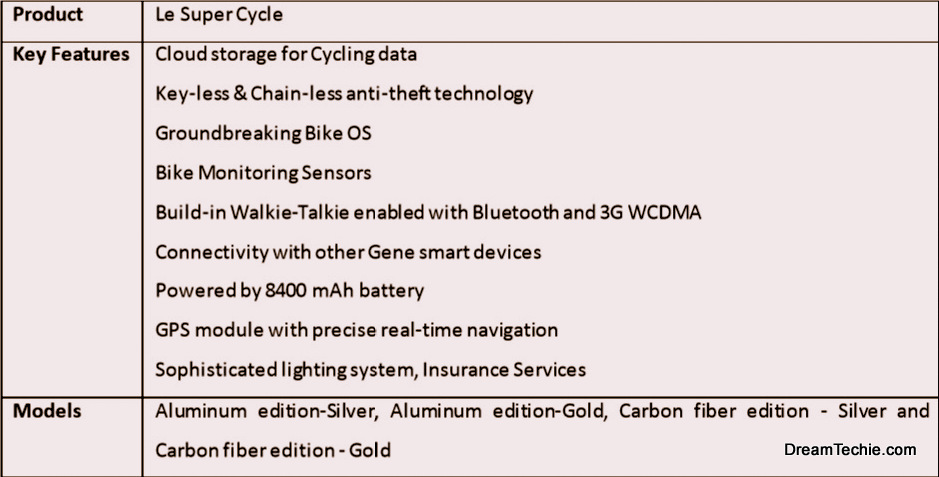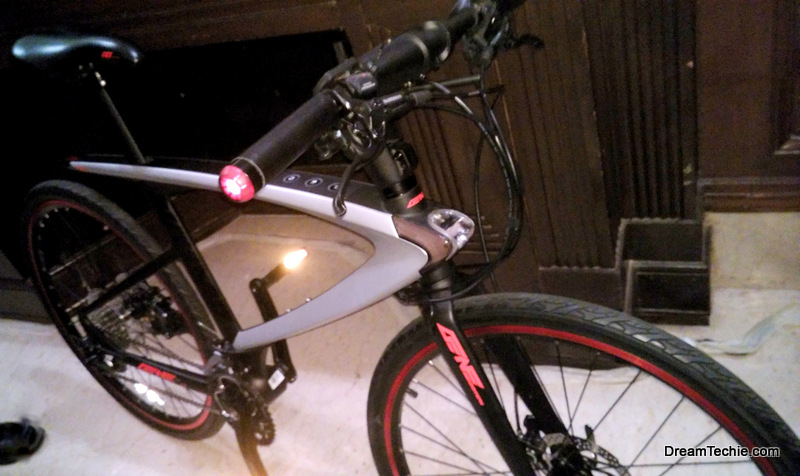 Le Super Cycle's relentless commitment is to yield the ultimate pursuit of industrial beauty in its super bikes. The next gen-Super Cycle, creates a dynamic visual effect and a cycling experience at ever pedal.
Prices are not yet revealed for the above products, for that we have to wait for Grand Launch which is on 20th Jan 2016.  Stay tuned for more tech news and don't miss to share this read on social media.