The spirit of giving something precious to your loved ones makes this Christmas unique and special. With this post we are here to help you out in deciding a perfect gadget to buy for your loved ones this Christmas.
1.    Powermat wireless charging system
Tired of sitting near wall and charging your smart phone every now and then? Well here's something that you would really appreciate. Powermat Wireless charging system allows you to wirelessly charge your Smart phones.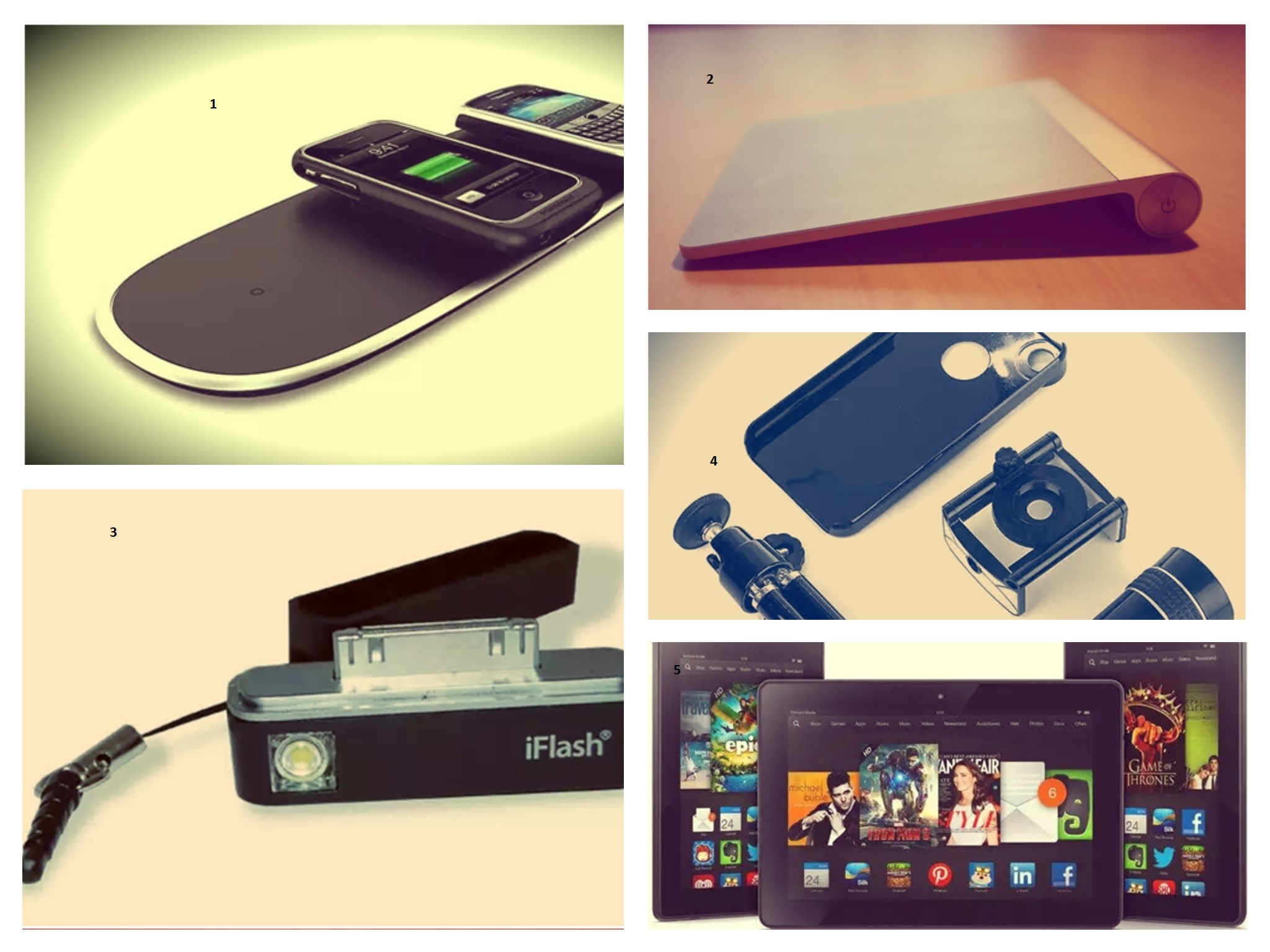 2.    Magic Track pad
The first multi touch track pad designed to work with Mac desktop is here.   Magic Track pad uses the multi touch technology and supports a full set of gestures and gives you a whole new way to control what's on your screen.
3.    iFlash
"Let there be light". iFlash is the compact flash that you can easily insert into the docking port of your iPhone and give your iPhone a charming look.   It can be very easily attached through plastic 3.5 mm jack.
4.    Apple mobile phone telescope
Add a distant view to your iPhone camera with this 6x Super Zoom Telescope.   Make your friends jealous with this little cool gadget.
5.    Kindle fire HDX
With most impressive screen and processor, Kindle fire HDX stands tall in tablet market.   Kindle fire HDX is Amazon content driven 7 inch tablet. Priced around $230, Kindle fire HDX is must buy gadget choice for this Christmas.
6.    Garmin approach s4
Loaded with more than 30k international golf courses, The Garmin Approach S4 is the ultimate gadget choice for golfers.   All you need to do is just start this little yet smart gadget and get GPS data and call information from your Smartphone.
7.    GoPro HERO3+ Black Edition
Here's the most powerful way to record your sporting achievements. GoPro HERO3+ black edition comes with increased field view and 4K video recording.  However, it is smaller and lighter compared to other GoPro editions. But this wonderful gadget is Wi-Fi enabled and takes 12MP pictures at 30 frames per second.
8.    Sony alpha 7R
A full frame interchangeable lens camera, Sony alpha 7R is a gadget that will make you fall for it.  It is packed with 36.3 MP sensor plus exciting features like Wi-Fi connection, 1080p HD recording and OLED view finder.
9.    Adidas miCoach Smart watch
Adidas makes its presence felt in the market of smart watches.  Adidas miCoach is your running necessary running companion. With Smart Run, this gadget reads your pulse rate from your wrist and gives you coaching advices, very smart indeed.
10.     Withings pulse
Here's a gadget that would help you live your life in a healthy way. Withings pulse, a pulse tracker captures distance walked, calories burned and other activities.  Moreover, it still works when you sleep. At night, it monitors your sleeping cycles.
11.    Sennheiser Momentum Headphones
A premium looks to your music experience. Packed with leather ear cups, metal braced band, premium over the ear headphone look, Momentum headphones is worth your money.  You'd been forgiven if you feel another world musical experience with this beautifully mastered gadget.
12.    Google chromecast
Google chromecast is a pure genius gadget which can be easily controlled from your smart phone and other devices. Just plug in the dongle and play online content directly from YouTube, Google Play and others.  Google chromecast is a gadget you cannot afford to miss.
13.    Fujifilm x100s
The Fujifilm x100s uses a 16.3 MP X-Trans CMOS sensor with improved autofocus speed. Moreover, it is powered a new processor, the 'EXR Processor II' which includes a new 'lens modulation optimizer' feature.   Fujifilm x100s a perfect gadget for enthusiast seeking elegant appeal to their photography.
14.    Samsung Game Pad
Priced at $100, Samsung Game Pad is a gadget that gives a retro feel to your gaming experience.  It is built for Samsung Galaxy S4 and can be easily connected via Bluetooth to a give you 1080p gaming experience.
15.    Mophie juice pack plus
Are you tired of charging your iPhone 5 twice or thrice in a single day? Well here's the solution.  Mophie juice pack, a protective case cum portable charger is the perfect gadget for your iPhone. This case is available in black, red and white colours. A good news, Mophie juice pack plus is the highest capacity iPhone 5 battery case tested.
16.    Bose noise cancelling headphones
Are your headphones too noisy? If yes, check this headphone at once.  Bose noise cancelling headphones reduces noise across various frequencies.
17.    Hipe Bluetooth shower speaker
Here comes a gadget for people who want music to stay with them everywhere they go, even in shower. Listen to quality music with Hipe Bluetooth water proof shower speaker.  This device can easily paired with any Bluetooth device and runs up to 25 hours.
18.    Memoto lifelogging camera
Here's the world's smallest camera for you. Show your love for your family and friends with this 5MP camera that automatically captures photos every 30 seconds and comes with a battery life of 2 days.  A small yet efficient gadget.
19.    Magic wand remote control
Magic wand is a perfect gadget to gift your kids this Christmas. With a flick, this gadget let's you control any remote controlled device.   It has 13 motion controlled movements that will do perform different tasks accordingly. You and your kids will love waving this gadget all day long.
20.    Logitech washable keyboard
Tired of getting your keyboard dusty and dirty every now and then?  Well Logitech has a solution to your 'keyboard' problems. Its washable keyboard is easy to clean with water and is quite durable overall.