With iPhone, editing, improving and having fun with photos is no more a dream as the latest version of iPhone is now engraved with an auto-focus mechanism and capturing 3 megapixel images. Moreover, people can explore the internet to dig up the apps through which you can share your high quality images instantly. You will be happy to know that editing the digital photographs will not be a daunting and expensive task as it was earlier to do with tools like Photoshop.
All such tools were a bit complicated also to learn especially when no guidance was provided. There is a plethora of apps that can be widely used for editing on all the iOS devices including iPhone, iPad and iPod as well. Edit your images in a few steps with these free iPhone apps.

Snapseed
This is an app designed exclusively for photo-editing developed by Nik solution. Snapseed allows the users to edit the captured and existing images. Play controlling the contrast, brightness and saturation with swiping the screen to tailor the gestures. You can add white and black, drame, vintage and grunge effects that will eventually turn all your snapshots to high-quality photos. App store will allow you to download Snapseed flawlessly.
PicTransfer
Here comes another option of photo editing solution. This app is absolutely free which will aid you to transfer the photos thus; you can seamlessly pick picTransfer for downloading. This is a universal app which allows transferring the pictures wirelessly among various devices.
However, you cannot sync your device with the computer. However, if you need the transfer among iPad, iPod touch or iPhone, this app will do the magic without requiring any cable. The latest version of this has helped the users to use bug free option.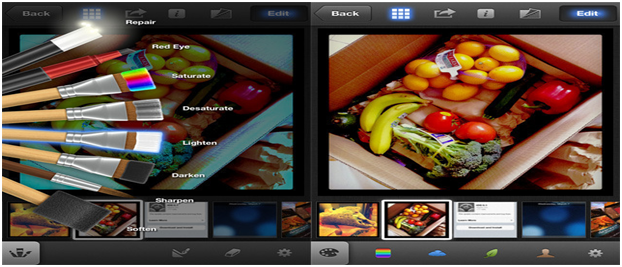 Also Read – List of Free Image Editing Software Online
Instagram
Instagram is sponsored by Facebook and in past few months, over 90 million users have been encountered. Instagram app is not limited to editing of photographs instead it serves more as a photo filter app and social networking service.
The app will crop your photograph automatically into a square shape and you can choose your filter. Eventually, you will get the Polaroid type of photographs which are not suitable for landscapes, but will be perfect as quick snaps. Do not deem this app as an advanced photo editor as its social nature is its appealing factor.
Pixlr-o-matic
This app will work for you with a difference as it focuses on elevating the picture quality without creating any hassle. You can find a range of effects within this app ranging from selecting to improving the picture quality or having fun for it. The user interface provided to you is really simple, funny to use, clear and absolutely free.
BeFunky
A neat iPhone Application Development services has brought this application which is exclusively designed for iOS device is another name for BeFunky and it have highly rave reviews on iTunes.
Its appeal directly comes from the blend of Flickr and Instagram features. It eventually allows the users to share their pictures very easily and apply filters as well. It features are the synonym of its name "BeFunky".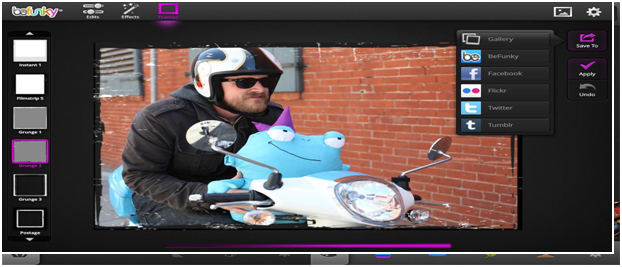 Also Read – Most Trending iPhone Apps of Today
Adobe Photoshop Express
If you do not want to tackle with all the professional tools, then Adobe Photoshop Express is the right option for you which is available for free on various websites. Enjoy with it as you can easily rotate, crop, flip and straighten the pictures with it amazingly. There is a lot more that you can enjoy with this app such as adjusting color saturation, tinting, exposure and much more.
Put amazing effects to your picture such as sharpen, soft focus, vignettes, vibrant, rainbow and a lot more. The professional photographer will find all the tools within this free app that will do everything meant for a high-quality picture.
iDarkroom
This is a highly popular software designed for photo editing that works amazingly for iOS devices and allows you to vary contrast, saturation, brightness, color, temperature and a lot more. Highly cool effects can also be added such as vignette and many more. You need not to pay a huge amount for this app as it is available for only $0.99.
Afterlight
It was formerly known as Afterglows and later as Afterlight. This app is not only meant for photo editing, but it can also handle video also. Users can upload or capture the pictures and they can add new filters to it as well. Users can also add filters and alter the elements such as saturation, brightness, exposure and mush more.
You can change the orientation of the picture as well. If you love shooting videos then add instant film textures as per your choice. Once you have got your photograph in a way you want, enjoy sharing it on Twitter, Flickr, Email and Instagram.
All above mentioned apps can do a great and amazing task for you by providing you the option through which you can modify a picture so that its quality can be enhanced.
Thanks for checking this amazing post on photo editing apps for iPhone.