Who wouldn't like to create a large follower base on Twitter? After all, more followers provide social authority and also extend your influence. While number of followers is important, quality of followers is more valuable. We will tell you how you can get them. Just follow our list of 10 simple ways to get Twitter followers for free.
1. Work on your Profile
You need to ensure that your profile is complete with accurate information. The profile picture should have your face clear and in accordance with the size prescribed by Twitter- 400×400 pixels. Your bio is another thing that people read before clicking the follow button. So be a bit creative with it. Do add a creative twitter cover picture. There are many tools available online to create a customize twitter cover pic.
2. What would you do on Twitter? Tweet!
Can there be any simpler ways to get Twitter followers? You just need to compose tweets that leave a lasting impression on the readers' mind.
Include funny, interesting and thought provoking tweets to keep the readers interested; you can even tweet multimedia content including pictures and videos, as they grab a lot of attention. Tweet with images have much higher response rate.

Tweet informative content, facts and quotes to attract twitter followers.
3. Know the correct time to tweet
Will you follow a person who doesn't tweet at all? Never.
So don't be one either. Also, you will have to tweet only when your followers are active on Twitter. The best time to tweet is in the morning, especially before 9AM, and in the evening, after around 6PM. These are the times when people are most active on social media.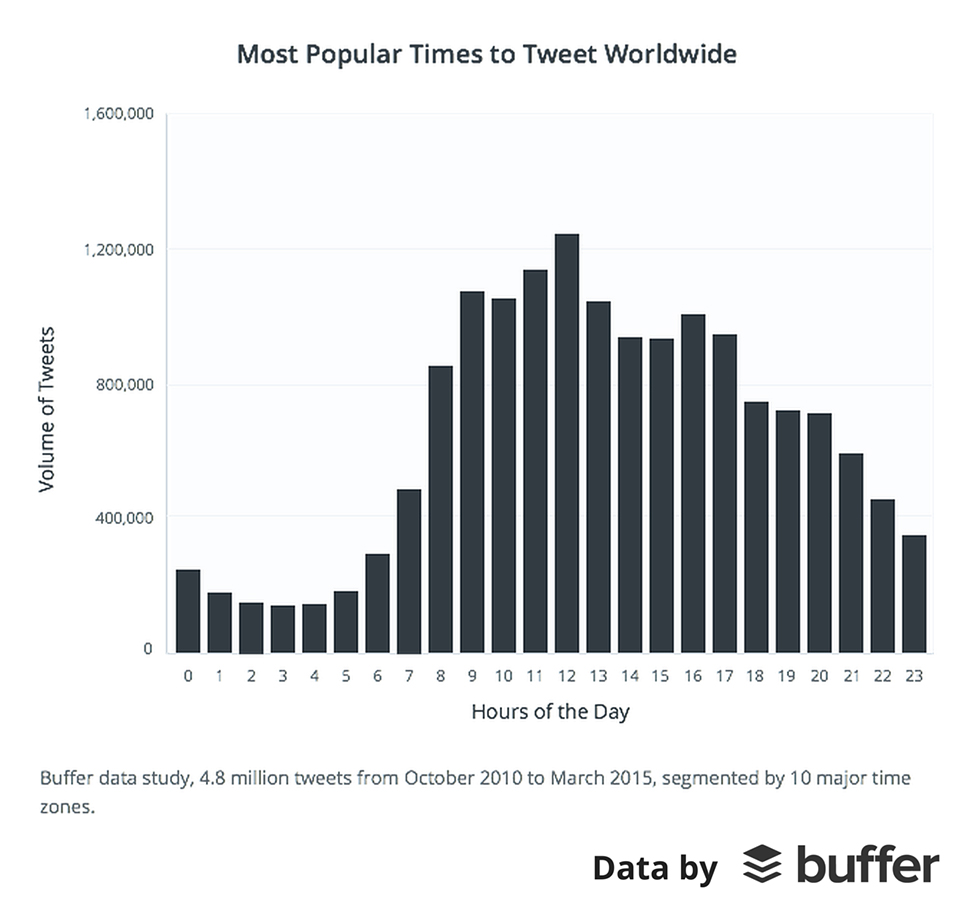 Source:entrepreneur.com
4. Hashtags!
Hashtags are one of the greatest ways to get Twitter followers by letting your tweet reach a wider mass. You can refer to the 'Trends' section to check out all the hashtags that are trending, and use the relevant ones in your tweets.
Just make sure not to spam your tweet with hashtags.
5. Follow for follow works too
All the social media networks work on this principle; and the users themselves have adopted this principle. If you don't follow your followers back, then they might unfollow you for you didn't followed them back.
You will also have to unfollow those who don't follow you back, because of Twitter's limit of 2000 follows.
Also Read: Top 10 Free Twitter Tools To Use
6. Direct people to your Twitter account
Never forget to mention your Twitter handle on other social media websites like Facebook and LinkedIn, to make your followers on other platforms to follow you on Twitter too. You can also mention you handle in your blog, emails, business cards etc.; publicize your Twitter account as if you were selling it and see your list of followers grow.
7. Interact with your followers
Yup, this is one of the most important ways to get Twitter followers. You need to interact and engage with followers and other people on Twitter. Personally respond to people who have messaged you, retweet relevant tweets, follow people with similar interest, and acts that can make you visible on Twitter.
8. Follow & Tag celebrities
Twitter always suggests you a list of people whom you'd wish to follow, or carry similar interest as you. You can utilise this list to your advantage and interact with the celebrities. Following them will give you a handful of followers, and if you managed to make them follow you back after your interactions, then you should expect a boom in your followers list.
And if you are making a tweet about a particular celebrity then tagging them might can get you a retweet from the celebrity's profile.  And that retweet will bring lots of engagement and followers for your twitter profile for free.
9. Do not spam
That's what we all hate the most. You will have to precisely determine how many tweets are for your followers. Just never ever cross that limit, otherwise be ready to lose a few followers who got annoyed seeing you multiple times in their feed. Be very, very careful!
Also Read: How to Be an Effective LinkedIn Influencer?
10. Avoid auto-responders/bots
A big no for all the bots that you anyone would use for any of the actions on Twitter. A few people use auto-responders to thanks people who just followed them, thinking it would be courteous, but it does the opposite. You will be annoying the person the very day he followed you. So the best thing you can do is avoid them completely.
Check some more experts tips for Twitter –
Thanks for checking this guide out, hope you enjoyed reading it. Do share your recommendations regarding ways to get Twitter followers.