We live in the world of technology, where surviving without gadgets is a big question. While we are always with our phone, we find it difficult to accept our kids with phones or tablets. The minute parents watch them with phones, and voice screams within that, 'no my child is getting spoiled'. But haste you leave it, thinking the kid is indulged in something apart from screaming and making you go merry go round.
But we have a good new, apart from viewing cartoons, playing games and watching videos, you can make the good out of the bad. There are numerous educational apps that would help in nurturing your kid's mind as well as give you a peace of mind.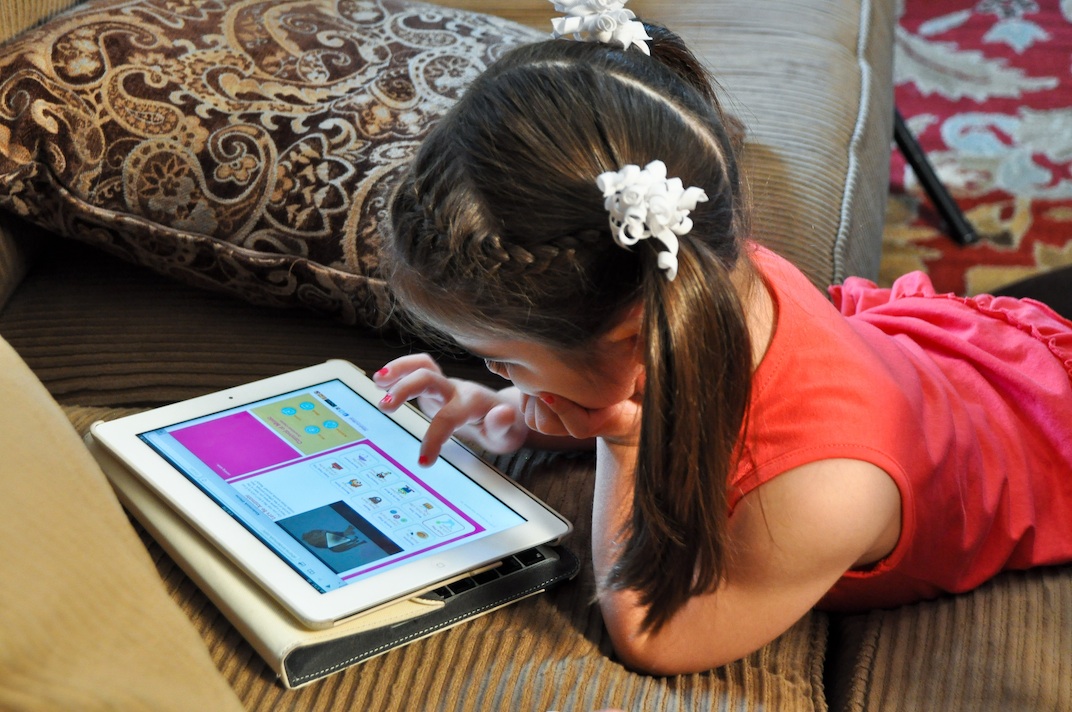 Image Source – kindermusik.com
Don't all parents want that? So we have listed below best apps for toddlers and growing kids, most of the apps are for Android gadgets.
Fisher-Price Storybook Rhymes:
This is an interactive app that has two different modes depending upon the age of your baby. For younger kids, they have Sing to Me mode, where the narrator sings the story and for the older group of kids they have Read & Learn mode. Also, you can personalise the book for your kid. Apart from this they have rhymes which your kids can enjoy and learn the rhymes.  Visit App Here.
Age Group: 10 months-3 years
Toddler Kids Puzzles PUZZINGO
This is a perfect app for parents who are looking for an educational puzzles and games for their kids. Along with education concepts such as shapes, colors, numbers and others, the app even rewards the kids with mini-game.  Preschool children can build up their vocabulary with this app and even develop fine-motor skills, matching and tactile skills. This app comes in various languages and even designed for the special children with autism. So, download this app and develop your child's skills.
Age Group: Two years plus kids.
Learn to Read- Phonics:
Another amazing app designed for the development of the growing kids. From how to read, spell, write the word to learning the sound of the letters and where to place them, this phonics app is sure to make your kid smarter. A fun way to learn and understand the language, and the best thing is that it works without internet and is ad-free. You can leave your kid with this app and notice faster development in your child.
Age Group: 3 years plus.
Endless Alphabets:
If you are looking for an interactive vocabulary buildup app, then Endless Alphabets would do complete justice, it has word puzzles that your kids can easily solve and at the end of the puzzle, the app defines the word and gives examples. A perfect end to all your struggles of making your kid understand a word or improve his/her vocabulary. Visit app Here.
Age Group: 3 years and above
16 Learning Games for Toddlers:
We bet your kid would develop great skills with this app. Through the game your child would learn about the color matching, shapes, sizes, logic reasoning and much more. They have 16 learning games for your toddler and 10 educative concept for older kids. Download it for your toddler and see him grow with this wonderful app that would definitely enlighten his mind.
Age Group: 2 plus years
Brainpop Jr. Movie of the Week:
The all in one app that has all subjects in one app- Science, Social, Math, Reading and writing, Arts and Technology tabs. It will make your kid learn new things in cooler way and even showcases a movie every week related to education.
Age Group: 5-9 years
The Foos Coding 5+: Making Games
Want your kid to become a coding expert or is your kid interested in coding? Then this spectacular app is sure to catch your interest. It has won various awards such as Best Learning App, Best App for Young Kids and many other awards. Logic sequence, pattern recognition, spatial visualization, algorithmic thinking, debugging are the few things that your kid can learn. The complete detail of the app is given on the codeSpark website which aims in smartening the kid's brain.
Age Group: Above 5 years
Sudoku Junior:
A pictorial Sudoku that would help in sharpening your kid's brain. It has 24 game categories with pictures of sports, monuments, science, that would also help kids in gaining knowledge about the world facts. It has three levels of difficulty and will definitely improve your kids memory power too.
Age Group: 4-10 years
Math Learning Game for Kids
A entertaining way to learn math, it teaches your child- additions, subtraction, tables, in a unique way which your kid will enjoy. No more stressful way of teaching math, make your kid smarter and sharper with this cool app that easily adapts to your child's age. The app is sure to content your heart.
Age Group: 4-10 years
Feelings: Emotional Growth
Apart from strengthening your kids mind, make them understand empathy too. Make your kid understand emotions and feelings and how to express them. Also make them learn to understand other's feelings with this interactive app. This app makes sure your toddler develops in empathic human.
Age Group: 2+ years
There are numerous apps available for kids learning, but we found these top rated and amazing for your child's development. In our next segment we would share about apps that you can use on Apple OS. Share in your views and comments about which of these are you using and is your favorite.
You may also like –
Save