The famous Animal Face App is now available for free to all the iPhone users. Developing innovative apps has become a crucial and very important part of the mobile app development industry. If one analyzes the reasons for these developments then they could find a plenty of causes.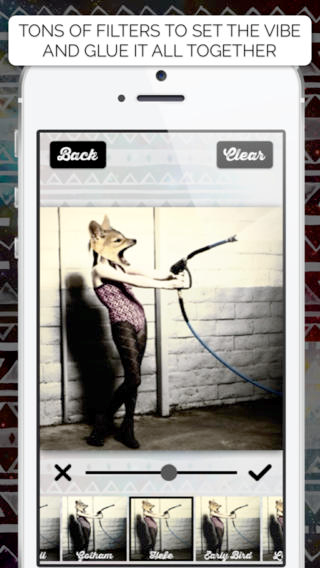 Gone are those days, where people purchase normal mobile phones nowadays school kid to a senior citizen everyone has smart phones only. In these present times, almost every person is seen holding a personal Smartphone. These Smartphones mainly runs only on a unique kind of platform which supports apps.
Majority of users use the smartphones for apps only which are nothing but small programs that are meant for some specific use. The Animal face is one of such most famous app which is mainly created for iPhone and also iPad.
Therefore this app basically can run only on iOS of Apple. A person or persons can effortlessly change their face or body in an image from their camera roll with wild animals' features. The funny app allows its users to edit all the photos to build a lovely Animal face. You will find this app very thrilling experience in order to see your human body with a matching animal face.
Also Read – Top 10 Video Games of 2013 till Yet
Everyone in your family might find this amusing. This is simply a kind of fun that can help people to hang on to their iPhones.
Some of the salient features of this app are as follows –
• The Animal face app will take the image you give as input from the camera roll images of your iPhone and will save your final image back to your device.
• The app by itself can actually detect all kinds of various images from the camera roll folder and thus suggests some unique kinds of animal face accordingly.
• The image will be edited with this Animal face app and after edit it can be easily shared on all social networking websites viz. Facebook, Twitter, Instagram and many more.
• The primary free version of this app will be providing around 10 animal faces or so furthermore this can be increased to any numbers in the paid versions of the rest.
• The simple paid version of the iOS Animal face app can actually provide you with around 30+ animal faces which are enough to be actually used in the group photo thus the app will make various kinds of face of animals in a single picture.
• It is actually a fun oriented app which can be accessed by people of diverse age groups thus this is a full-family entertainer.
This is a graphic oriented app which can be easily downloaded and readily installed from the Apple store which is the actually the main center for all the iPhone and iPad based apps. The actual download process is very simple, easy, effective, and fast.
Additionally, the app really gets installed in a very short period of time. To get much better results the front face portrait photos should be used for perfect imaging.
Also Read – List of Free Image Editing Software Online
Author Bio: Sienna Amelia, an associate developer involved in iOS developer at Contus, she is passionate towards researching all about iPhone strategies and applications development. Often she contributes mobile technology-related subjects for readers learn and share knowledge. Follow via Author: Sienna Amelia on Google+.