So here we are sharing most effective tools for content marketing. With these free content marketing tools a blogger can achieve better traffic for his blog or website.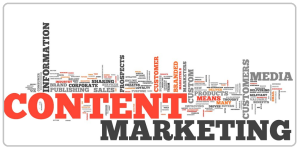 Tools for Content Discovery –
1. Topsy:
Topsy is a powerful content discovery search engine. Just type in the keywords and the corresponding results page offers a two pane window. Menus such as Twitter, images, videos and influences are located on the left side and the corresponding links or URLs for the same on the right.
2. Swayy:
Swayy allows you to find articles, videos, info graphics which you can share with your audience on various platforms. This type of concept is fast catching up with content curators. Swayy offers multiple accounts, intuitive dashboard, weekly reports and collaboration feature.
3. Feed.ly:
Feedly is actually an aggregator. It is an application which allows you to add blogs. Now, every time the concerned blog is updated the new content immediately pops up in your app dashboard. You can create categories and nest websites accordingly. You can also share content directly from within this tool.
4. Pulse:
Pulse was once a social magazine application for smart phones and tablets offering news.  However, after it was acquired by LinkedIn, the app got integrated with the parent website, and termed "LinkedIn Pulse". The working remains more or less the same. You need to sign in to access various features such as channels, influencers and content.
5. Scoop.it:
Scoop.it helps businesses, bloggers and individuals create fresh content like a curator would. Simply enter a topic, add keywords and search for related content. Enrich this with your own perspective. That's it! Publish and share this SEO friendly content on various social platforms.
6. List.ly:
Listly allows syndication of stagnant content in list form. It allows bloggers, marketers and publishers to revive interest by embedding it on their own site, and share them via social media sites such as Twitter and Facebook.
Also Read – 5 reasons why using spun content for guest posting is never a good idea
Tools for Marketing & Distribution –
7. Facebook – Boost posts:
Of course this is a paid way to create a buzz around your content. You can choose your budget, demographics and target audience. Facebook is one of the most influential social media platforms, so "boost" your content and leverage from Facebook's popularity.
8. MailChimp:
MailChimp helps you market your content in a truly professional manner. Offer your audience interesting and intriguing feed which will force them to subscribe to your future posts. Create subscriber list from your existing contacts or simply start a new one.
9. Yoast:
Yoast is a fantastic SEO optimization tool for your WordPress site. It is simply one stop shop for WordPress plug-ins which analyses & optimizes your website. Yoast also reviews sites and offers suggestions on how to improve user experience, increase loading speed and enhance search ranking.
10. Slideshare:
Slideshare as the name suggests, is a great platform to share presentations. With over 60 million visitors every month its popularity metric needs no proof. It supports an array of formats which make it a very versatile tool to present any form of content.
11. Compendium:
Plan, Produce, Publish, Promote and Prove. These are the five mantras of compendium. Plan your strategy; create interesting content and publish in a scheduled manner, all from within this tool. Assign and allocate content development work, get multiple level approvals. View all the scheduled posts and get insights to these published posts through reviews.
Tools for Organization –
12. Pinterest:
It is a graphical way of popularizing events, interests and even hobbies. In simple words, Pinterest allows you to create pin-boards, re-pin it to someone else and even like them. It might be a photo sharing tool but a great way to enhance your brand through innovative pictures.
13. Evernote:
Evernote is your virtual secretary. It takes down your notes, ideas, or even full documents and stores on the cloud. You can access the same anytime, anywhere. It is available in two flavors; free with limited data storage and $5/month version. This tool is available for all platforms and devices.
14. Memeo:
Memeo is a document and content saver. It is a must have tool for every writer, and business, especially those who work on the cloud. Memeo simply backs up all your documents. It is an enterprising assistant which tracks, updates and secures the data through backup process. It allows you to work offline. However, the moment you connect to the internet it performs its magic silently in the background.
15. Dropbox:
Dropbox is yet another cloud or virtual computing platform, or rather a server which allows you to organize your documents. This data can then be accessed from any location, device, at any point in time. If the data is edited or deleted offline, it will automatically sync once you are connected to your account.
16. Posterous:
Posterous is a simple and no frills attached blogging tool. It simply posts your content in quick time. Posting can be initiated through an email or through web. New posts automatically update your Facebook and Twitter status.
Also Read – 8 Essential Steps Of Social Content Curation
Tools for Content Creation –
17. Kapost:
A fantastic tool for organizing and allocating social media tasks such as writing chores etc… You can assign tasks to different writers and keep a watchful eye on their progress. Creating posts is simple. Writers simply need to enter the title, keywords, information and links.
18. Zemanta:
An amazing content discovery tool that helps you with your writing tasks on similar topics without plagiarizing.  Now you need not go any further for your WordPress or Blogger site content.
19. GIMP:
A Photoshop like tool that helps create compelling info graphics for various tasks and platforms such as Facebook, Pinterest and even blog. It is not overwhelming. So make the best use of it; after all a picture is worth a thousand words.
20. Visual.ly:
A must visit place to create pictures or 'select and use' from their basket of readymade, stunning images. Graphics form an important element in content marketing strategy. Make sure you exploit them to create instant impact.
Tools for Writing –
21. Byword:
Want to create content and share it across different devices? Want to make writing chore a joy? If your answer is yes then use this nifty little tool. You won't regret.
22. Text broker:
Text broker offers a database of writers. Employ them for your content writing chores. Simply register, fund your account with a $25 deposit and place your order. Everything is transparent and done via mail.
23. Contently:
Contently empowers writers, journalist to build rich content, the only thing they love the most. For businesses and brands, CONTENTLY offers a great platform to publish and engage with audience. In short it is tool where brands and writers meet to produce informative web content.
24. Skyword:
Skyword loves writers and brands. It offers a great avenue to both the entities in terms of creating compelling content, optimizing the same, sharing, with a scope to earn money for their efforts.
25. Lingospot:
Lingospot boasts several apps; prominent among them is a tool which understands user's context, the content they read, the topics that they search for consistently, historically speaking. After analyzing this data Lingospot recommends and serves relevant content making reading task a gratifying experience.
About the Author:  Robert Bryant is a blogger and works with Mosquito Magnet – mosquito control. He likes to write about Online Marketing Strategies, Social Media Tips and Blogging Strategies. You can follow him on Google+.