Last Updated – [last-modified]
Hello Readers !! Being a web explorer and a hobby shopper I have discovered another great platform that can help you in saving money with online shopping.
This read is for all those chronic online buyers who cannot keep themselves away even for a while from buying different stuff online. I strongly believe, you guys will surely going to like this recommendation.
Last week I explored BonusBay.in ,  As the name suggests, BonusBay.in can be your ultimate destination for amazing bonus and cashback on your every single online purchase. To make it simpler, BonusBay.in is a website that gives you cashback while you perform any online purchase on wide range of online shopping sites through it.
Though BonusBay.in is a new growing project, I was concerned about genuineness of results.  To overcome this insecurity, I tried BonusBay.in while I shopped from Myntra.com and I am glad to share that BonusBay is truly a happiness sharing website for online hobby shoppers like me. BonusBay.in gives you with amazing savings and bonus on your every online purchase.
Seems you are interested in knowing more, Is not it?
BonusBay.in gives you opportunity to save some extra bucks on your online shopping with just few extra clicks. For an example, when you purchase something from, say, X store for Rs. X, BonusBay.in will provide you with a Bonus of Rs. Y in your BonusBay.in account. Now once your Y gets to a total of Rs. 1000, you can ask BonusBay.in to deposit the same to your Bank Account.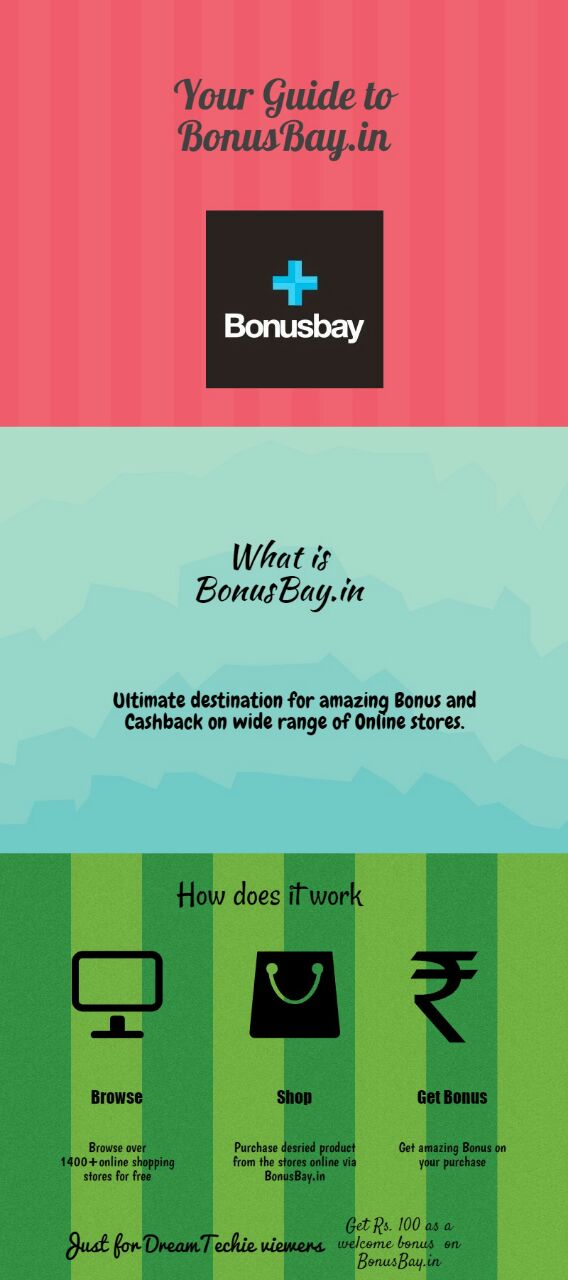 Earn your 100Rs Now &  Shop Now with BonusBay
So want to know how you can use it ?  Below are 4 easy steps to get you more closer to your Bonus.
Step 1: To start with, register yourself on BonusBay.in through one of these options Facebook, Google+ or simple E-mail. (I registered with my facebook profile)
Step 2: You would very surprised to hear that BonusBay.in has over 130+ retail stores in its radar which means BonusBay.in gives you guaranteed bonus on your purchases across 130+ retail online shopping websites. All you have to do is browse through different online stores on BonusBay.in and when you have found your desired store, click on the store through BonusBay.in. After that you will be redirected to your desired online store. Now purchase your desired product as you normally do without worrying about your Bonus as it would already be tracked down by BonusBay.in
Step 3:  The entire Bonus that you have earned, after a successful purchase, will be shown in your BonusBay.in account under the 'Tracked Cashback' option. Meanwhile, don't lose your patience as the process might take up some days.
Step 4: After you have done enough of Shopping via BonusBay.in that your 'Tracked Cashback' reaches a toll of Rs. 1000, you can ask BonusBay to deposit it your Bank account. And finally you have your savings with you.
And if you are a busy fellow who want to be updated with all the latest offers running on BonusBay then you can install the BonusBay Chrome Browser Plugin, This plugin is completely free and easy to use.
My final words, I believe this reference with surely gonna help you in saving some bucks and if you did it; don't forget to share your experience with DreamTechie readers. We have comment section to hear you. And there's still something more for our DreamTechie viewers, who can now get a Rs. 100 as a welcome bonus on their signing up on BonusBay.in.
So hurry and start shopping now with BonusBay !!