Bloggers and website owners are busy finding effective ways to improve Alexa ranking of their blogs and website, let us find out why?
Well, lower Alexa ranking indicates that the blog or a website is successful and healthy online. The lesser Alexa rank you achieve, the more business you will get! So, improving your website's or blog's Alexa ranking is utmost important, especially if you want to survive in the competitive market with good business.
Alexa Ranking is the key factor when it comes to sell direct ads right from websites or blogs. Most of the advertisers prefer to post their advertisements on the blogs with higher Alexa ranking (here higher means lower) , even if the blog is lesser popular online. So, it is always a better idea to find effective ways to improve blog Alexa ranking.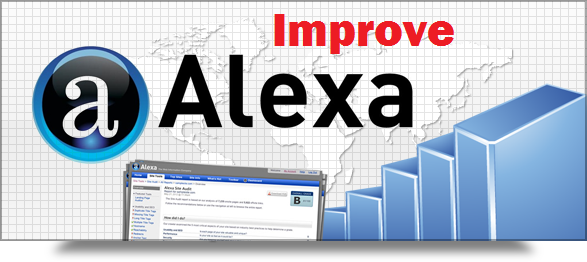 Well, there are some novice bloggers who have just stepped into the field and finding difficulty in understanding the concept about how to improve Alexa ranking of their blogs. So, if you are also among them, then continue reading the article to find some effective tips on improving your blog's Alexa ranking. But, before moving ahead you first need to understand about Alexa ranking and how Alexa rank is measured.
Alexa Rank
Alexa (Actionable Analytics for the Web) is basically an online company managed by Amazon that refers itself as a "Web Informational Company". The Alexa ranking of websites and blogs are decided by considering several crucial aspects. The interesting part of Alexa ranking is that it automatically gets updated on daily basis. Unlike Google Page Rank, the lesser your rank falls, the better it is.
How Alexa Rank is measured
Most of webmasters and bloggers believe that the best way to improve blog Alexa rank is by increasing the rate of incoming traffic. However, it is truth, but not completely. Alexa only tends to measures the incoming traffic of your blogs that have Alexa Toolbar installed and the blogs need to have Alexa rank widget installed so that the traffic can be counted.
Tips to Improve Your Alexa Rank Quickly
Claim your Site on Alexa
Claiming your blog on Alexa indicates that you are the leader and gaining control over the domain. When you claim your blog, it gives Alexa trust upon you that you have control over the domain. It is like a verification process. So, it is very important to claim your blog on Alexa to boost your ranking quickly. One an claim his blog or site on Alexa free of cost.

Install Alexa Toolbar
As already mentioned, Alexa only counts the incoming traffic that have toolbar installed. Therefore, it is very crucial to install Alexa toolbar in your blog and convince the blog readers to install the same in their respective blogs.
Adding Alexa Rank Widget
Being a blogger you can't ask each of your blog readers to install Alexa Toolbar in their respective blogs and browsers, but you may ask them to install Alexa Rank widget in their blogs so that your and their' blogs can get good Alexa rankings and maximum exposure online.
Quality Content
Well, content is always the king and it is applicable for Alexa ranking as well. Your blogs should have quality and good content in order to increase ranking quickly and rapidly. Create Link bait on your blog. A Link bait is content on your site to which other sites link because they want to, not because you ask them to. 
Get Traffic from Bloggers
There is a secret behind lower down the Alexa ranking of blogs quickly and that is to get traffic from bloggers and techies. This technique has been used by many bloggers and they have seen a vast change in their Alexa ranking. If you really want to improve Alexa ranking without much effort and quickly, then you may also use this technique to boost the ranking and get quality traffic to your blog.
Write a Review about Alexa
Alike all other blogs and websites, Alexa also appreciate good reviews and backlinks to them. So, if you really want to boost your Alexa ranking quickly, then simply write a good review about Alexa.com and post it on your blog and try to give backlinks to Alexa's blog.
Commenting & Guest Posting for Backlinks
Commenting & guest posting on other blogs of similar niche will significantly increase your ranking indeed. Commenting on other blogs will also increase backlinks for your blogs and having increased backlinks is utmost crucial to increase Alexa ranking.
Social Exposure
You may focus on increasing social exposure of your blog simply by sharing your blog posts on diverse social media platforms. This really increases the flow of traffic into your blog and hence the Alexa ranking of your blog will increase significantly.
Update your Blog on Regular Basis
It is very crucial for bloggers to keep their blogs updated regularly as it helps their blogs to get ranked higher in Alexa. So, bloggers need to focus on improving the posting frequency in the blogs which will help them to improve blog Alexa rank.
Blog Directory Submission
Bloggers also need to submit their blog's in some good directories or communities. Few most recommended blog submission sites are Indiblogger.in, Networkedblogs.com, Ontoplist.com. This tactic will help bloggers to create backlinks. Also it helps in increasing the inflow of traffic.
Use Versatile Tactics for Promotions
One should never strict to few limited marketing strategies. Most of the bloggers only use blog commenting tactic to promote blog which is completely wrong. These days there are number of fresh yet effective promotion tactics are trending on web. Few of them are –
Infographic creation and promotion
Guest Posting
Article Marketing (Best sites to article submissions)
Social Sharing
Email Marketing
PPT creation and promotion
Must try the aforementioned effective ways to boost Alexa ranking of your blog. If we are missing something important do share through comments.
Note – Here I would like to mention that, there are many free tools are also available online those can help you in improving your blog Alexa rank but never use them on a blog running "Google Adsense".
Last Updated – [last-modified]