Suppose you are lucky enough to get a 2014 FIFA World Cup ticket, have gone to Brazil for live football matches, and plan to record all great matches with your Sony/Cannon/JVC HD camcorder for uploading or aftertaste, there is actually only one thing left for you to think about, and that is how to convert your MTS/M2TS/MOD/TOD file into video formats playable on iPad, iPhone, Android, etc or accepted by YouTube.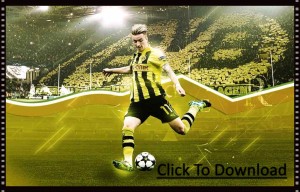 Or you just stay at home with an ice-cold beer and watch live broadcast. But what if you missed one of them, like the Germany vs. Portugal match, which I know is a total one-in-a-million chance for loyal football fans, only to find out that Germany dominates Portugal, 4-0. What a real loss! You can watch the rebroadcast on TV, but I guess you have little patience for waiting as "Ronaldo and Portugal humbled and Germany runs riot ". So downloading YouTube videos or other online match videos is the best way to catch up.
About WinX HD Video Converter Deluxe
We are doing an actual review of WinX HD Video Converter Deluxe, which is just designed to solve those two questions. Before praising any product, we normally do a test to see how it really works and present you with detailed information. Before getting into specifics, let's take a look at the brief overview of this YouTube downloader and converter for World Cup videos and see how this HD video converter facilitates your football match enjoying.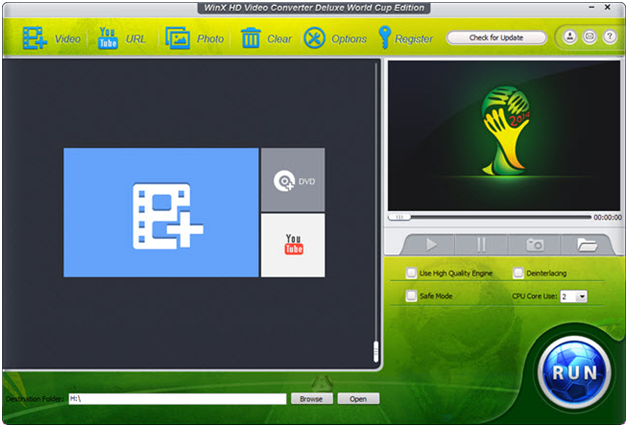 A General Overview
WinX HD Video Converter Deluxe is designed as all-in-one video software, capable of downloading YouTube videos (main feature needed to download World Cup matches from YouTube), converting all kinds of SD, HD and Ultra HD videos (another one for transferring your downloaded/recorded World Cup videos to portable gadgets for playback), making photo slideshow, and editing football match videos. You might know that World Cup 2014 is shot and broadcast in UHD 4K resolution for the first time in Britain. So if you need to deal with a UHD World Cup video, WinX HD Video Converter Deluxe seems to be the right one to choose.  Read on for How to Convert or Compress 4K Ultra HD Resolution Videos on PC or Mac.
As a YouTube Downloader
As I mentioned, WinX HD Video Converter Deluxe plays many roles in your World Cup video watching, one of which we are talking about now is YouTube downloader. This video software enables users to download sharp 2160p videos of football matches, and pop Music MV, like World Cup theme songs from YouTube. We tried to use WinX HD Video Converter Deluxe to download World Cup official song We Are One video from YouTube, and it just took minutes to complete the whole thing. Well, I give the credit to its unique advanced YouTube Video Download Engine. (FYI, that varies based on your computer configuration and net connection)
As an HD Video Converter
I should have put this converting function and YouTube downloading feature together. But as powerful as being both YouTube downloader and HD video converter, it deserves a special introduction. I won't give you specific supported input or output video formats, because there is a long list of them. Generally, there are 370+ video/audio Codecs built in WinX HD Video Converter Deluxe. And it definitely accepts your recorded World Cup videos and includes all presets of your possibly desired output formats for devices. Oh yes, we have not talked about the quality. From the tested result, the converted video is just the same as the original one. Don't worry. Embedded High Quality Engine has answers for all quality issues. Besides, you can manually adjust bitrate or resolution parameters.
Guidance of Using WinX HD Video Converter Deluxe
Here is the testing process. After downloading and installing WinX HD Video Converter Deluxe, we download a World Cup theme song video by following steps:
Step 1: Click "YouTube URL", copy and paste the video link and analyze it.
Step 2: Choose one resolution/format shown below.
We noticed that there are two options.
Step 3: You can select a desired resolution/format and click "OK" for download only.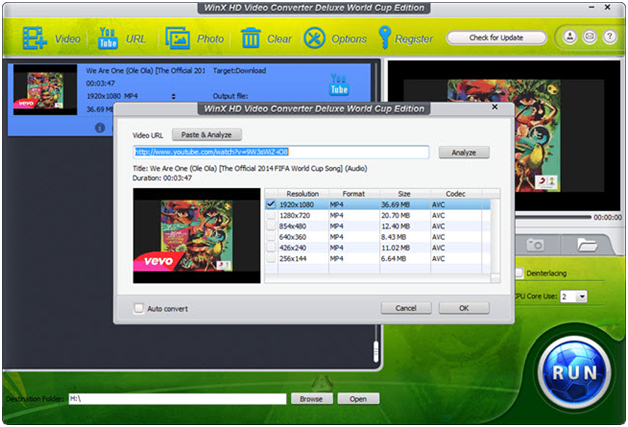 Step 4: Or tick the button "Auto convert" to finish the download and conversion at one go. Choose output format, destination folder and "Run" the conversion.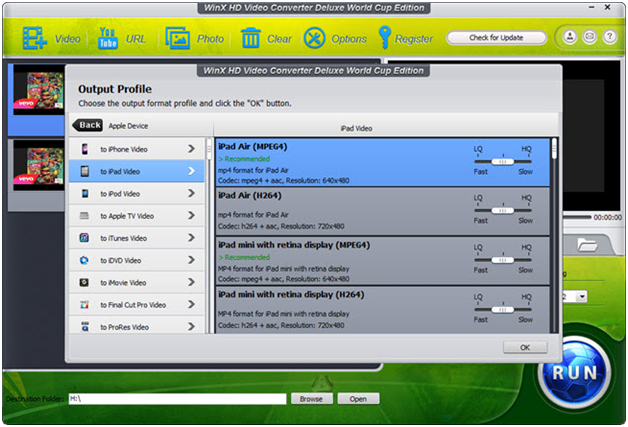 All your downloaded World Cup videos can be saved as AVI, MPEG, WMV, MOV, 3GP, etc for offline playback, further editing or DVD creation. You may also choose to convert them particularly to iPhone, iPad, Samsung, HTC, Sony, etc. That's the end.
Giveaway of WinX HD Video Converter Deluxe
The good news is that we found WinX HD Video Converter Deluxe (World Cup special edition) now is given away in the company's Share World Cup Video – Win Prize contest. I have to say that the offer of this fantastic YouTube downloader and converter left us with no doubt as to the need to get ourselves one in this hot event. I mean, it's powerful yet free with license code, so what else needs to be considered about?
This time-limited giveaway is valid before July 20. At present you still have time to think twice before making the decision. Personally, I am just badly in need of such a great tool for this year's World Cup matches offline watching. And for football fans with no time for live matches, an online HD video downloader and converter is a must-have.
I'll show you feedbacks of this video downloader converter World Cup version and the WinX 2014 World Cup Gift Pack. We do believe sometimes numbers speak for themselves, so do comments.
"Looks promising. Lots of features to try out. Nice giveaway."
"This Giveaway is great! Especially with free license code that your company provided for the app, this has been a tremendous offer for such terrific app."