Hello readers, after interviewing many bloggers, today we are here with the exclusive interview of CEO & Founder of two well established businesses.
Deepak Chauhan is the CEO and Founder of a creative digital agency based out of India & USA, VOCSO , launched in 2009. The web business strategist, who has 12+ years of experience, has worked with many small businesses and startups across the globe to help them build successful websites/applications and launch them online with his strategic consulting.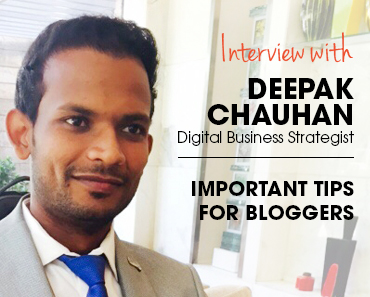 He is also the co-founder of TutorCity.in which helps students find the right tutor for their learning requirements. His writing in various publications focus on helping businesses leverage the internet marketing tactics to expand further. He is also one of the Judges for the prestigious Web Marketing Association.
Deepak has consulted with hundreds of customers across USA, UK, NZ, AU, UAE, Middle East & India in the field of Custom Web Design, Web/Mobile Application Development, eCommerce Development & Internet Strategy Consulting..
In this interesting interview, Deepak Chauhan shares some of very insightful views on SEO, Content Marketing & Website Design which I'm sure would be useful for bloggers, businesses & startups alike.
In Conversation with Deepak Chauhan – Interviewed by Yogita Aggarwal, an online marketing professional and an ambitious  blogger 🙂
1) Hi Deepak, thanks a lot for your time, I'm excited to have you featured in DreamTechnie. Let's start with something we do not know about you?
Deepak Chauhan: It's a pleasure, Yogita. Hmm… I'm not sure if you know any of these…
That I am very bad at finishing a book reading till the end
That I'm the first generation entrepreneur in my family
My creative venture VOCSO does not have any sales team
I value relationship over money
2) Tell us about your journey from a programmer to the founder of a technology company and an education startup?
I was in class 12th when I was first introduced to computers. It always fascinated me. When I learnt more about it, it was exciting to see how internet and programming can create magic. I loved programming and that's why it never felt to me like it was a job for me. It was my passion. Even today I code certain projects myself. My transformation from a programmer to the founder of two firms was a natural extension. The Web firm I was working for back then offered me to become their partner. However after a 2 and a half year of great association, we had to part our ways. But during this period I had came in contact with a very good friend Manoj. Together we started VOCSO.
Tutorcity.in came in very late, when I saw many of my friends and kids struggling to find the right tutor for learning whether academics or hobbies, they were always wasting a lot of time trying to find the right teachers. That's when we started Tutorcity. What I love about tutorcity is that there we have no commissions. Students and teachers directly interact and decide on fee and how they want to pursue.
Right now I'm witnessing a shift in my ideas and vision.
3) Tell us more about VOCSO.
Deepak Chauhan: I started VOCSO along with my partner Manoj Parashar in 2009. Before this I was working with another Web Design firm as a CTO. VOCSO has an integrated team of experienced web consultants, creative web designers, dedicated programmers and SEO consultants working together to provide our clients with the complete solution, making our company the best affordable web design company in India.
At VOCSO we strive to bring together the right people, latest technologies, web trends, custom website development services clubbed with our strategic approach to online buyer psychology to create bespoke solutions that forms the base for a booming online business.
4) Though we are at a blogging platform, we want to know your views over blogging?
Blogging is easy to start with as you can write on almost just anything, but when it grows, you will observe that you have a majority of readers interested in certain niche, and then it limits your options to write. But at the same time it gives you an opportunity to build your saturation and expertise.
It will be advisable to blog about the subjects and topics that you're passionate about because that's something you will love to dig deeper about. And what can be better than loving your own job?
Also read –The Perfect Recipe: The Art of Blog Writing
5) According to you, what are the common mistakes made by bloggers?
Okay, so what I sometimes see majority of bloggers confused about the theme of their blog. You can have a personal blog or you could write about certain theme e.g. traveling, product launches, technology, startups, events, people, trends,etc. The point is you need to be clear about this, as you will attract different kind of audience.
Secondly, do not ignore SEO. If you know a bit about Search Engine Optimization, that will help you in a greater way than one. Before you start writing, choose certain key phrases that your blog will relate to and try to co incorporate them appropriately in the blog subject and inside. This will help search engines understand your blog post better and divert the audience which will benefit most. This will increase your readership from organic means.
6) Please share some good tips to improve a blog's ranking and traffic.
Lol, I was waiting for this question 😉 As I said earlier, knowing about basic SEO will help a lot. So these are certain things our blogger friends can do…
Know your audience who you're writing for and then try to incorporate keyphrases in the blog posts that will attract them.
Guest post on other popular blogs that are related to the niche you're writing for. Most likely they will link back to your blog website through author website link or incontent links. This will pass on the link juice to your blog.
Use images and name them appropriately. Also use alt and description to tell search engines about the image. This will help you get some traffic from google image search. It will also engage your readers better.
If you're using certain information from other sources, do not hesitate to quote them as a source. This will help them know you're writing about them and they may write back, comment, share and link to you.
Use #hashtags on social media sites while sharing your blog posts. This presents your blog to hundreds of thousands of readers who do not already know about your blog hence driving a lot of engagement, social shares and traffic.
7) What VOCSO have to offer to bloggers who are looking professional services?
VOCSO can help bloggers with 4 major things
Creating a unique and professional blog website – maintaining and hosting the same
Market their blog to drive more quality traffic
Optimize the blog to increase conversion. Yes Conversion is very important, much more than traffic.
Help them define sellable products and create automated sales process and create revenue streams from other than ads.
Also Read – Essentials for Professional Blogger, No Matter What Niche You blog
They can even schedule a free consultation with me via my calendar to help them prepare their digital strategy.
8) You are also handling SEO & SMO clients as well, so what's your intake on SEO and SMO and what strategies Vocso team use for assured exposure for clients.
At VOCSO, we take our customer's business seriously. Rather than jumping into it right away, we start by discussing and analysing what their products, service and offers are. This is very important step. Once we learn this, we identify the target market they want to reach out to.
The next step is identifying the channels that will be most effective for the customer. Most often we also need to make changes to the website to make sure it has all the ingredients to drive conversion. We believe that every business is different, no one template will suit them all.
9) If you were not a Digital Business Strategist, what would you have been?
I never seriously thought about it, I feel like I was born to do this.
10) Where do you see yourself five years from now?
Currently I'm working on 2 of my own startups( in consulting & lead generation space) , which are supposed to launch in next 3 months. So next couple years I will definitely be working on expanding the same. In addition, I love consulting startups and businesses, so that's definitely something I will still be doing.
11) How would you describe yourself in one word?
Ambitious.
12) If you could change something about yourself, what would it be and why?
I keep self evaluating myself and change anything that help me become a better person & better marketer. But procrastination is something I need to change 🙂
13) Thank you so much Deepak. It was great talking to you and all the very best for your future endeavors.
You're very welcome Tanya. Thank you so much for having me here.
Thanks for reading us here, don't miss to share your questions and intakes about above interview, we will be happy to hear you though comment section 🙂