Recently we got to see a sudden rise in the budget laptop segment, and many Indian smartphone manufacturers started to launch their products in the space. Micromax and iBall are the two companies that recently launched their laptops dubbed as Micromax Laptab and iBall CompBook. We have done a quick Micromax Laptab Vs iBall Compbook comparison to let you know which one is the best for you. Have look.
Design & Display
The most relieving thing about both the laptops is that they look like an actual laptop, and the companies haven't given them a look of a tablet. The build quality is quite good on both the laptops, but the iBall laptop feels and looks better, thanks to its thinner profile and textured finish on its top.
Micromax Canvas Lapbook L1160 comes with a 11.6-inch display that supports multi-touch, comes with a resolution of 1366 x 768. On the other hand, iBall Compbook comes in two screen sizes, one with a size of 11.6 inches and the other one with 14 inches. Both of them have a resolution of 1366 x 768.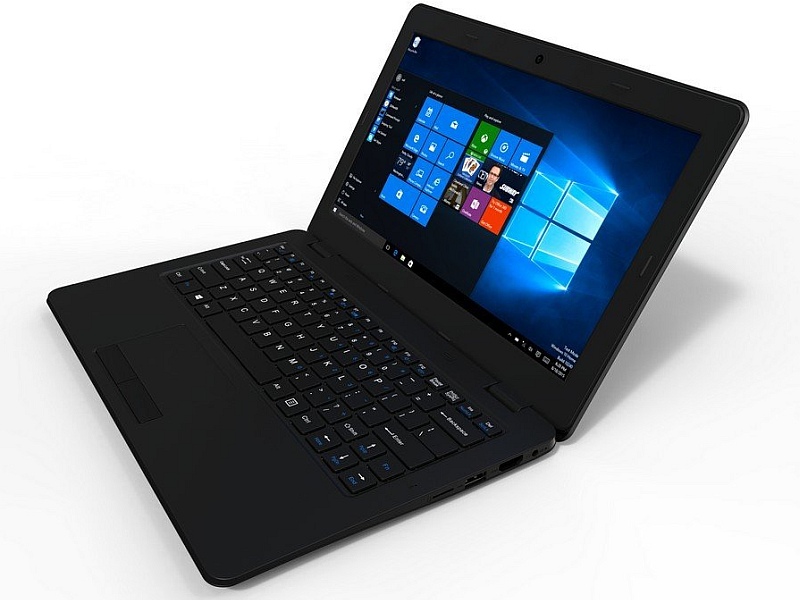 Processing Power
The internals of both the laptops are almost the same. They are powered by Intel Atom Z3735F quad-core processor (four cores, four threads, 2MB L2 cache) that has a base clock speed of 1.33 GHz, and can go up to 1.86 Ghz with Burst clock. Being Intel powered devices, the graphics in the laptops are managed by Intel HD integrated graphic processors. Both the laptops come with a RAM capacity of 2 GB.
Internal storage on both the laptops is rated 32 GB, and can be expanded using a memory card or by attaching an external hard drive. They both come loaded with Windows 10 Home out of the box. iBall gives an option to get its laptop with Windows 10 Pro pre-installed, which will cost you extra; we will detail about pricing in the dedicated section below.
Connectivity
The Micromax Canvas Lapbook L1160 is quite rich in terms of connectivity, and is nothing short of a full-fledged laptop. It includes 3.5mm audio port, Wi-Fi 802.11 b/g/n, Bluetooth v4.1, two USB 2.0 ports, one HDMI port, and one Ethernet port. On the other hand, iBall laptop supports audio port, Wi-Fi, Bluetooth, HDMI port, and two USB 2.0 ports. The Ethernet port is missing in the iBall CompBook.
Battery
The battery capacity of Micromax Lapbook is 4100 mAh, while both the iBall CompBook variants come with 10000 battery packs. iBall claims that the battery can last up to 8.5 hours of usage, 31 hours of standby, 25 hours of music playback and 8.5 hours of video playback. Do keep in mind that the two iBall laptops come with different screen sizes, which may affect the battery life accordingly.
Pricing
Micromax priced their Canvas Lapbook at Rs. 10,499. The iBall CompBook Excelance, the one with 11.6-inch display is priced at Rs. 9999, and the iBall CompBook Exemplaire with 14-inch display is priced at Rs. 13,999. Also, the company announced the Pro variants of both the laptops, which will come pre-loaded with Windows 10 Pro while the other specs remain unchanged, and will be priced at Rs. 19,999 and Rs. 24,999 respectively.
Buy link – Iball Netbook CompBook Exemplaire Intel Atom Quad Core – (2 GB/32 GB HDD/Windows 10) Netbook 8902968170493
Also Read:  Top 10 Backlit Keyboards To Invest In 2018
Verdict
In our Micromax Laptab Vs iBall Compbook comparison, we noticed that most of the specifications of the laptops from both companies were almost identical. There were a few differentiating points that helped us determine the best one out of the two. We would choose iBall CompBook over the Micromax Canvas Lapbook, considering a few points. First of all, the battery capacity of the CompBook was much larger than the Micromax counterpart. Also, the starting price of the iBall laptop is lower.
iBall gives you an option to choose between the two screen sizes according to your preference. Both the variants are priced adequately, and you can go with any of the two variants according to the screen size you want. Just ignore the Pro variant, as it isn't at all a value for money proposition.
Trending Stories –
Thanks for giving a look at our Micromax Laptab Vs iBall Compbook Specifications Comparison. We're looking forward to your suggestions and feedback.