The craze for selfies or solo photographs has become one of the biggest trends in recent times & mobile phone makers are cashing in on this growing trend with exciting product line ups of their own.
The Nokia Lumia 730 Dual Sim and the Samsung Galaxy Grand Prime are two of the leading smartphones that tap into this growing craze for good selfies. These smartphones have attracted immense customer interest post their launch and promise to take the mainstream mobile phone markets by storm. This feature itself is being positioned by major makers of mobile phone handsets for marketing purposes and the Lumia 730 interestingly comes with a power packed secondary front facing camera of 5 megapixels. This smartphone has been priced at around INR 15,299/- and retails all across the country.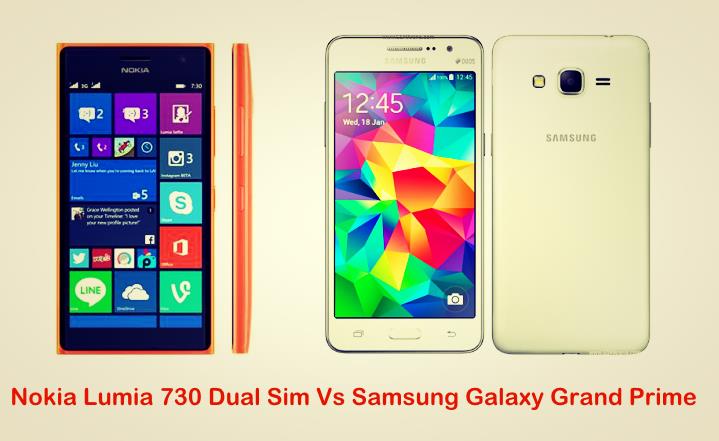 Camera & Selfies
The Galaxy Grand Prime is another smartphone that focuses on tapping into the market for selfies courtesy its similar front camera of five megapixels. This smartphone comes at price of around INR 15, 499/- which slots it in the same category as the Lumia 730. Both smartphones boast of premium features and high end specifications. However, if you have to choose between the twain, which one should you opt for? This depends on the overall user experience offered by both as price is not really a determining factor in this case.
Operating System
The Galaxy Grand Prime makes use of the very latest operating system, namely Android Kit Kat 4.4 for superior performance. Samsung also incorporates its own exclusive Touch Wiz user interface right on top of the Android platform and backs this up with multiple useful self promoted applications. As a result, this becomes a major strong point of the device. The Nokia Lumia 730 Dual Sim is no less with its latest Windows Phone mobile 8.1 operating system. This guarantees greater responsiveness and swift performance. The Samsung Galaxy Grand Prime may well have a little edge over the Lumia when it comes to design.
Design & Body
The Galaxy Grand Prime uses plastic quite liberally and measures up at approximately 8.6mm, making it one of the slimmest smartphones in this category. However, the weight of the smartphone is a little high at about 156 grams. On the other hand, the Lumia 730 makes use of similar styling cues and inspirations. There is ample usage of plastic in this case as well but what may attract users is the widespread use of several bright colors. The Lumia 730 measures at 8.9mm while it is a little lighter at approximately 130 grams. The Display is another area where both smartphones are almost evenly matched.
 Screen & Resolution
The Galaxy Grand Prime sports a premium TFT LCD screen of five inches with resolution standing at a decent 960 x 540-pixel. However, serious smartphone graphics connoisseurs may find this a little underpowered as compared to other beefed up counterparts. The Lumia 730 has a comparatively tinier screen at 4.7 inches. The AMOLED screen possesses a resolution of 720 by 1280 pixels. This makes it marginally better as compared to the Galaxy Grand Prime. The camera is another area where both smartphones shine with equal elan.
Other Camera Features
The Samsung Galaxy Grand Prime possesses a primary camera of 8 megapixels which is decent enough for good performance. There are other fabulous features like LED flash and auto focus which make it a good option for even serious shutterbugs. This smartphone, as mentioned earlier, possesses a front camera of five megapixels. This has an 85 degree ultra wide angle and the high resolution ensures decent image quality. The rear camera can shoot videos in the 1080p format at around 30 fps. As compared to the Prime, the Lumia 730 possesses a primary camera of 6.7 megapixels in addition to special optic features courtesy Carl Zeiss.
Hardware
Other features include an LED flash in addition to auto focus. The front camera deserves special mention owing to the five megapixel resolution of the same. However, there is nothing much to distinguish between the two in this regard. Yet, camera quality is evenly balanced across both smartphones in spite of the lower megapixel count for the Lumia. The Samsung Galaxy Grand Prime comes with a super fast 1.2 GHz Qualcomm Snapdragon 400 quad core processor. This is aptly combined with 1 GB of RAM in addition to possessing a decent 8 GB of memory internally which can be further scaled up to a fantastic 128 GB through a micro SD card.
The Nokia Lumia 730 comes with a Snapdragon 400 quad core 1.2 GHz processor as well in addition to possessing similar specifications, i.e. 1 GB of RAM and 8 GB of internal storage capacity. Micro SD card support is available till 128 GB just like the Grand Prime and as a result, both smartphones do not compromise on horsepower by all means. The 2, 600 mAh battery provides decent battery life and capacity for the Galaxy Grand Prime while the 2, 200 mAh battery is good enough as far as the Lumia 730 is concerned. The prices are not really a distinguishing factor between the two smartphones even though the Lumia is only a couple of hundred rupees cheaper. This is not likely to impact buyers who will only look for feature based differences in this case.
Conclusion
Yet, the pros in favor the Galaxy Grand Prime include the substantially bigger screen and of course, the powerful camera. However, the specifications and features are almost similar on both smartphones. Of course, the Lumia comes with certain features that are better like stereo sound recording and face detection features for the camera. On the other hand, the Galaxy stands out for its ergonomic design, solid build quality and decent feel factor, something the Lumia falls short of by just a bit. However, the new Windows Phone interface is also a tempting proposition as compared to the Android though the latter promises superlative performance in all aspects.
It is a tough choice but the head would opt for the Galaxy Grand Prime while the heart may inch a little towards the Lumia 730!